Written by:
Our blog series 'A Letter to Future Placemakers', showcases letters that thoughtfully share learning points from lived and/or professional experience with the placemakers of the future. Interested in writing a piece for this series? Find out more here.
Our guest writer Beth Whalley has a background is in Higher Education, as a humanities researcher and lecturer with a passion for co-creation and community outreach. She is currently Engagement Coordinator at Midsomer Norton Community Trust (www.midsomernortoncommunitytrust.co.uk), working on their Cultural Programme as part of Midsomer Norton's High Street Heritage Action Zone.
Dear Future Placemakers,
I'm writing to tell you that the place you call home – your apartment block, street, village, neighbourhood, city – matters. Wherever it is, whether big or small, it has a story worth telling.
It's easy to forget that sometimes, I think. As a researcher, educator and event organiser, I've worked in a lot of places across England – from Essex to Kent to Worcestershire to Somerset – often in towns and villages that aren't typically found on the cultural map. I'm always fascinated to hear people's stories about their local places, but it does sometimes take a bit of work to bring those stories to the surface. Often, folks will tell me that they 'don't know much about the past' or that 'this town doesn't really have any interesting history'. I've been guilty of that myself, actually – I grew up in a Greater London suburb and have been flippant, in the past, about my hometown's 'lack of culture'.
People don't necessarily connect the ebbs and flows of their daily lives with the wider politics of place. My interest in everyday stories is occasionally met with surprise – but, of course, it's impossible to understand the past, present or future of any given place without understanding people's social and work lives, where they go to school, where they do their shopping, where they meet up with their friends and family, and what local issues matter to them.
These quiet stories are the interweaving threads which together create the vast and shifting tapestries of our public spaces. As the geographer Doreen Massey has famously argued, spaces and places aren't fixed or inevitable, but instead a 'simultaneity of stories-so-far.'(1)
On a recent project in Midsomer Norton, Somerset, our project team at Midsomer Norton Community Trust set out to capture some of these 'stories-so-far' and widen the perspective on what placemaking can look like. Midsomer Norton is a small town ten miles outside of Bath, probably best-known for its mining heritage and for being the namesake of the detective series Midsomer Murders. One of Historic England's High Street Heritage Action Zones, the town has been awarded sorely needed funding to improve its public spaces and host new collaborative cultural projects.
It was through one of these projects that the short film Midsomer Norton High Street Heroes came into being. Created by the filmmaker Howard Vause in partnership with pupils from Midsomer Norton Primary School, the film tells four stories about ordinary people connected to the town. The project emerged from the desire to delve deeper into the town's stories, and to find a Midsomer Norton beyond mining and Midsomer Murders. Importantly, we also wanted to uncover women's histories and queer histories.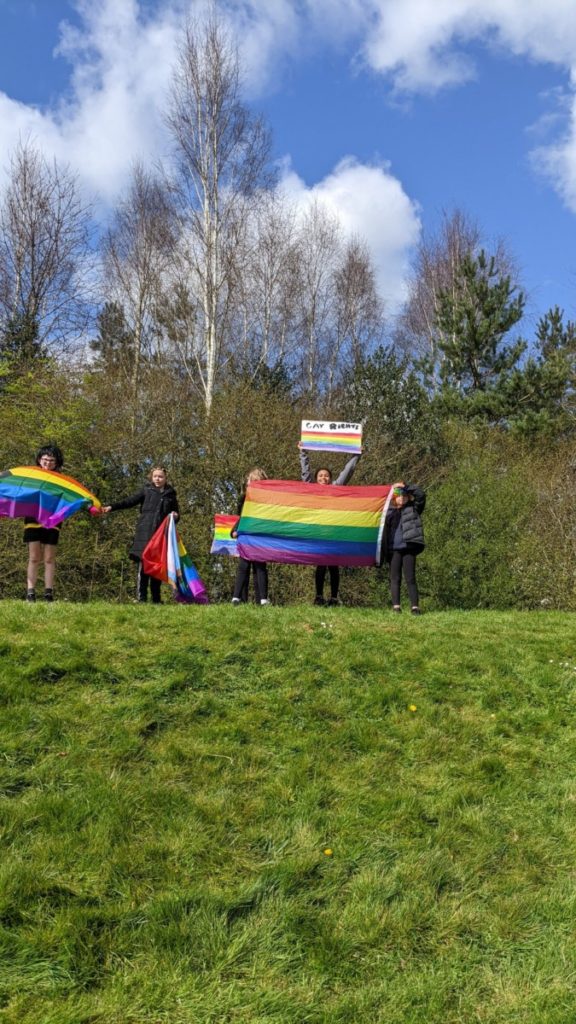 The pupils chose to feature subjects from a range of different walks of life, from politics, science, the arts, and sport. Joan and Kay Beauchamp were daughters of mine owners who left the family business to become political activists. Duncan Steel, born to parents who ran the local cinema, is an astrophysicist. Duncan Jennings is a skateboarder who campaigned for – and later designed – the town's skate park. Chris Urch, former member of the town's theatre school, is now a playwright and LGBTQ+ activist. Though none of the 'high street heroes' are household names, all of them have helped to shape their communities for the better – all of them are placemakers.
During the project, the children were encouraged to narrate how the people in their films got to where they are today and how they, in turn, could become Midsomer Norton's next placemakers, in ways big and small. As Duncan Steel said in a visit to the school: "Do what you can do, and what you want to do. If you want to be the world's best at whatever it is you're interested in, go for it. Don't let anybody discourage you – you go for it."
And the children's responses to the project were wonderful – one participant told me "I never knew this place was so creative! It's such a small town – but there's so much here." Watching the children joyfully uncover and celebrate the stories-so-far from their local area – and watching them ambitiously plot out their own stories-to-come in stake park design, science, theatre, politics and more – has absolutely made me rethink my relationship with the places around me, too.
I hope that readers of this letter, likewise, will watch the film and be inspired to create the changes they wish to see in their communities.
Find out more about the Midsomer Norton High Street Heritage Action Zone at www.YourMidsomerNorton.co.uk.
(1) Doreen Massey, For Space (London: SAGE, 2005; repr. 2008), p. 9.