Written by:
Relearning Place: Think Pieces are a series of online blogs which will take one of our event series themes from this year's WEdesign series, Relearning Place, as a starting point and offers an external voice and provocation on this theme. In the first of our Relearning Place: Think Pieces, Rowena Hay shares her thoughts and ideas about REvalue through the lens of the city of Liverpool, her adoptive home:
When I think of value I think about what we hold dear, both individually and as a society, but also, most importantly, about who has the power to bestow value, and the impact of that power on how our homes, neighbourhoods are shaped.
This power in action can be understood through the lens of a particular city, Liverpool, my adoptive home. I'd like to take you on a tour and comment on some of the changes I have seen over the last decade.
Let's start at the Baltic Triangle, where I work, a historic industrial area on the edge of the City Centre and a stone's throw from the docks. The Baltic has followed the playbook of gentrification, moving from a part derelict, light industrial area to an area which, particularly after the Capital Culture Year in 2008, became attractive to independent arts, music and creative industries; and investment followed. The public realm greatly benefited as a result, but some businesses, particularly those light-industrial businesses that did not "fit" were pushed out.
Since then a range of venues and hospitality businesses have flourished, and the Baltic became the 'coolest place to live' in the UK, as voted by The Times. The housing developers then moved in too, and huge derelict warehouses on the north of the site have now been redeveloped so poorly it's a slap in their (and our) face(s). The Constellations bar venue, which had become the poster child of the Baltic, has now moved out as the land it sat on became too valuable; now a tower of flats is being built in its place. Gentrification is moving on apace and one wonders what the ultimate destination of the Baltic will be? One can't help thinking that motives needed to be considered more carefully and the question asked "What value does this development bring, and for whom?".
Moving up Parliament Street and along Princes Avenue to the Welsh Streets – so named because they were constructed by Welsh builders for Welsh migrants seeking work and housing – you will find a part of town that had been earmarked as part of New Labour's flagship Housing Market Renewal programme in the 1990s. Planned regeneration meant demolition of homes in a low value market in order to generate increased demand. This was a policy adopted across the city, and many terraces were lost and residents moved on. Yes, problems did blight these streets, but the value people placed on their homes and the fabric of their communities was not recognised in this process, with knock-on consequences of broken social ties and support, and resulting in poor mental & physical health.
These processes still happen, and in the Welsh Streets, after a long-running resident battle to save the terraces from demolition, the decision was taken to save and restore them. Whilst the renovations have been beautifully done, many of the area's original residents have been moved on, through compulsory purchase orders, or because of increased rents that are out of the reach of many. Again, the question should be asked "In a process of redevelopment, where money talks, what is the value of home and community?".
I think what these two examples illustrate is how hard it is for communities to have a voice when working in a value system that puts money first at the expense of local businesses, and people's health and wellbeing.
There are, however, examples of an alternative approach. Drawing on Liverpool again and looking at housing through the lens of home you will find the Granby Four streets. Here is an example of re-use and of a project which puts people and community first. If you look at work through the lens of local craft and materials and you will see the Granby workshop; If you look at community through the lens of skill and connection and you will find the Granby Winter Garden; If you look at the economy through the celebration of local businesses and fulfilling of local need you will see the Granby Market. The question is not just the rehabilitation of buildings but the careful nurturing of a whole neighbourhood and the people who live there.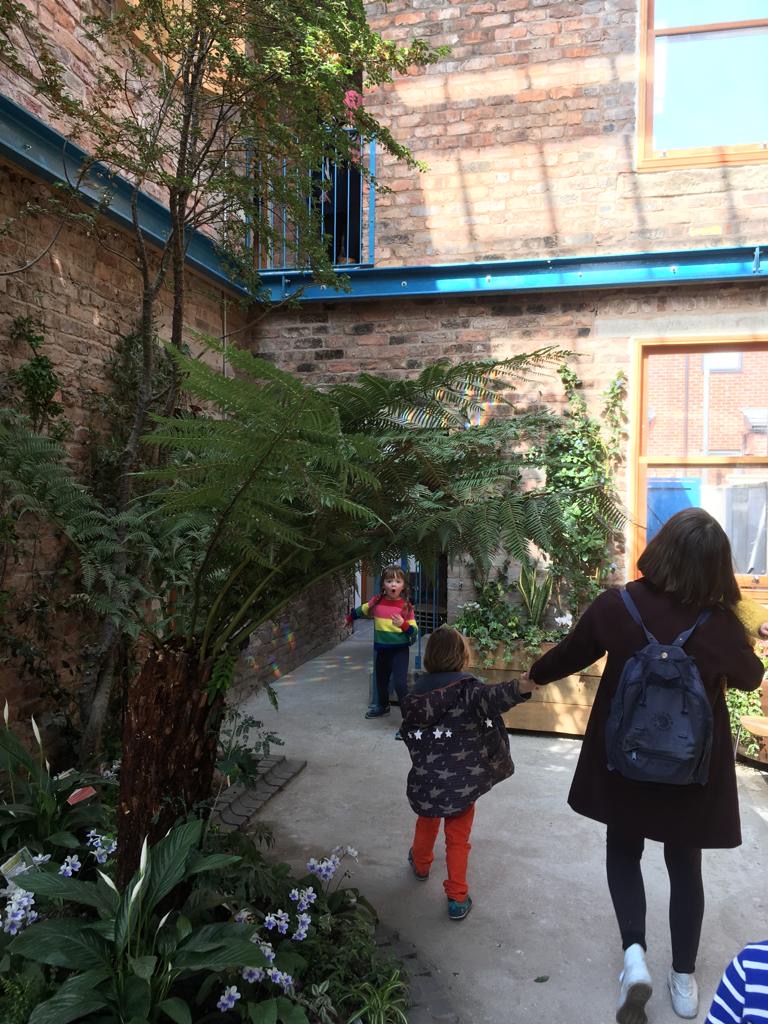 There are other examples throughout the city where people come together – Friends of Princess park for example or Squash – bringing community together around food growing and food businesses, I can't help but feel that initiatives like these exist in every city, but they need to be supported and their models to be fully understood so that their impact can be more widely felt and valued. I suspect we need to look and see what the smaller players can do, take a risk, and fund them properly. These initiatives are rooted in and come from the community – I suspect this is the way it should be done.
Find out more about these projects:
About the Author
Rowena Hay heads up Shortwork , a social enterprise based in Liverpool specialising in the training and delivery of Participatory Action Research and Evaluation projects for arts, education and community organisations across the UK.
About the WEdesign 2022/23 Series: Relearning Place
Relearning Place is The Glass-House 2022/23 WEdesign series which combines free, interactive events and co-design activities taking place in person in Glasgow, Sheffield, London and Newcastle, with a range of online events and think pieces. 
WEdesign is kindly supported by the Ove Arup Foundation.
More information about our upcoming events and details about how you can book can be found here.