Written by:
Last week, The Glass-House team delivered our first completely digital version of our Homes & Neighbourhoods by Design course for members of the Community Design Group on Broadwater Farm Estate in North London. This blog, one of a series that shares our reflections and learnings, focuses on capturing and sharing an online workshop.
The Broadwater Farm project is one of the first major Glass-House projects I've sunk my teeth into after starting my role in July. Due to the pandemic, an initially on-the-ground Design Training day was reformatted to an online gathering using Zoom.
Capturing and sharing in online spaces is intuitive and exciting. Especially with the plethora of established and new tools we have at our disposal, it is easier than ever to capture, record, and screenshot.
Consent
During the Broadwater sessions, to keep in line with GDPR and confidentiality, it was important to let participants know in advance that we would be recording, gather their consent and explain exactly how we would be using the recording and screen shots after the sessions.
The sessions were recorded, with the permission of the participants, for documentation purposes and to provide catch up videos for participants who couldn't attend all three meetings. None of the videos will be made available to the public, and screenshots only for very specific educational purposes.
Instead I shared content captured before the sessions and framed them around the history of Broadwater Farm and its development. It was enjoyable to develop indirect content of sorts, that focused on the beginnings of the space.
Creating and capturing content
My colleague Grace and I had travelled to Broadwater Farm to capture video and imagery to use in the online Design Training, including the study tour element. These were particularly helpful when developing stories for Instagram and other social media platforms.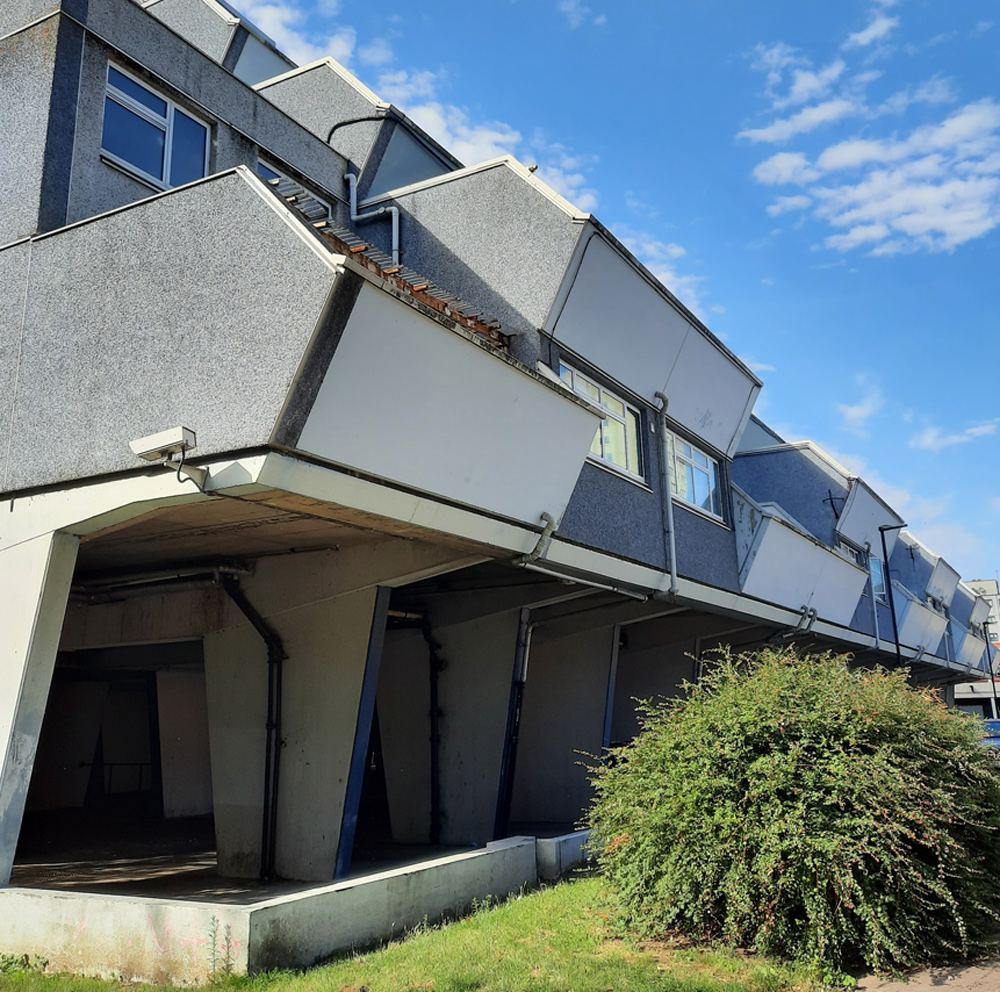 During the sessions, capture was quite fun and included gathering screenshots and PDFs of each Miro board.
We also encouraged participants to take images of their notes and drawings, or of things of interest they came across during their study tour, which will be helpful when it comes to general feedback and reporting.
Screenshots of the sessions were used primarily to capture the process of our workshop activities, and the outputs that were co-created during the sessions. This was important both for our internal documentation and learning, and can now be used to help us share what we learned about the different tools and approaches.
Anonymised quotes from the sessions will also be repurposed for graphic design pieces for social media and to create content directly from the events without being too intrusive while sharing the stories and thoughts behind the session.
As well as our series of blogs on the Broadwater training, a story will be developed for the project and its progression.
Whilst it was challenging to obtain any engaging photographic evidence of the workshops, the record function on Zoom was useful, and the completed Miro boards enabled easy documentation of ideas and conversation.

Glass-House Enabler from Urbed.
Imagery
The imagery that you capture from online workshops is very different from that of in-person workshops. This was particularly notable for us, as our workshop imagery is often of people working together, handing and shaping colourful crafting materials and of physical models. However, we are aware that a camera can feel intrusive in a workshop environment, and screenshots are both easy to capture discreetly, and produce digital content that is easy to manipulate for the purposes of sharing.
Testing
Zoom is the tool of the moment, to talk, share, discuss and debate. Though we're all still learning how to use it!
Thus the team had a test session to play around with the Zoom interface, while also developing useful guides for Zoom for internal use and for participants.
During two out of the three sessions I led on the back end of Zoom, such as setting up the recording of the session, break-out rooms, setting out roles (co-hosts), letting participants into the session and so on. It was an interesting experience, as I've been on a number of Zoom calls in the past few years but never on the back-end for such a big group call.
Collaboration
As with any project, collaboration was a big part of it. From facilitators from Urbed aiding recording break out rooms, to the participants bouncing off great ideas for spaces in their area.
To collect and elongate our learnings, we have begun to collate our notes and successes with our collaborators. We could even collate all this knowledge into a small research resource on remote online design training which is now more important than ever.
Explore our reflections on digital Design Training with our three linked blogs, each of which focuses on a specific area of consideration: