Written by:
Antonio Capelao is a British architect, educator, researcher, landscape designer and art collector. He was born in Mozambique with a Portuguese background, and has worked in architectural practice around the world. He is a RIBA Architecture Ambassador and set up Architecture for Kids, which the Soho Kids Xmas Lights project is part of, to engage children in discussions about architecture, design, the built environment and sustainability.
We experience light and its interaction with our surroundings every day. At its core, light has the power to draw people together in celebration in a variety of spaces and places.
I set up the Soho Kids Xmas Lights as an annual project in the Soho neighbourhood of London last Christmas with the Soho Primary School pupils, and the support of The Royal Institute of British Architects (RIBA Learning), The National Gallery, and the local community (as well as the contribution of the various sponsors that kindly donated towards the costs of materialising the project).
The project, which runs from April – November each year, works with local primary school children through design workshops which invite them to investigate the architecture of their neighbourhood, and the impact light has on the spaces where they live, learn and play. It also invites the children to learn about the identity of place, and how the buildings and people we frequently interact with help us form a unique sense of self. 
At the end of the project the pupils we have worked with celebrate their own 'identity of place' by creating a Christmas lighting design inspired by their local architecture and communities. These are then judged by a panel of local community members and built environment professionals, and 14 winning submissions are fabricated into lighting panels and used in the Christmas street lighting across Soho. RIBA will also select 3 of the 14 students' designs to receive an award, that will be showcased alongside the 21 winners from last year (the panels are produced by Blachere Illumination UK under their 'Creative Kids' initiative).
Soho Kids Xmas Lights 2022
This year, we have been working with 130 pupils from Soho Parish Primary School through a series of design workshops which have invited them to explore what the built environment is, and the role that lighting can play within it.
In the design workshops, they researched local buildings, communities, cultures and traditions to help them think about the role light plays within each of these elements, and to explore how we create feelings of identity and a sense of place from the areas we inhabit. They were then asked to use their findings to investigate how different forms of light can alter the architecture of our neighbourhoods, and our own sense of place, with the intent to create lighting designs that celebrate their local neighbourhoods and personal feelings of identity. In October, 14 entries were chosen by the judging panel to be made into street lighting panels that will be displayed throughout Soho during this festive Christmas season. The selected pupils were invited to participate in a curatorial workshop to decide where in Soho their lighting panels should be exhibited.
Identity, Lights and Fabrication
"The project has had a positive impact on the children, both developing their awareness of the different elements of art and architecture that go into designing the built environment, as well as motivating them to be creative and share their artwork with the community."
Hannah Peaty, Senior Leader and Art Lead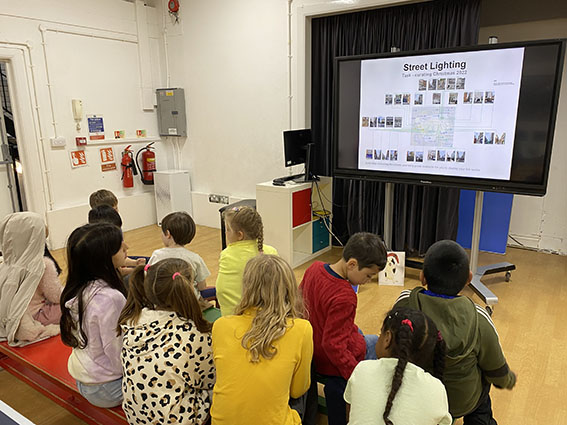 I think of identity as a production process with multiple levels that changes with surrounding factors, such as environment and time. Identity of a place is also viewed in relation to the historical heritage and the traditional characteristics of the region. Therefore, the local identity should provide continuity for development, preserving the traditions of local communities as the city changes over time; most importantly, it provides possibilities for urban rehabilitation to develop a sense of home, security and community for the local residents. Various types of identity have been classified throughout time such as place, urban, regional, national, cultural, personal, community and landscape, to list a few. All these identities have been proven to contribute to the identity of a local place. Such a view also makes it harder to differentiate the various identities, especially for local identity.
To introduce the children to the idea of identity and local place, we visited different environments within Soho to experience and talk about how different lighting situations change places. We also explored both human and non-human perceptions of light, both natural and electric. This discussion then expanded to discussing how illuminated and luminous surfaces are perceived differently, the ways light and colour can impact our visual understanding of material, and how these, along with other factors, inform our understanding of space in our built environment.
Christmas Lights as a Route Into Learning About Cities and Towns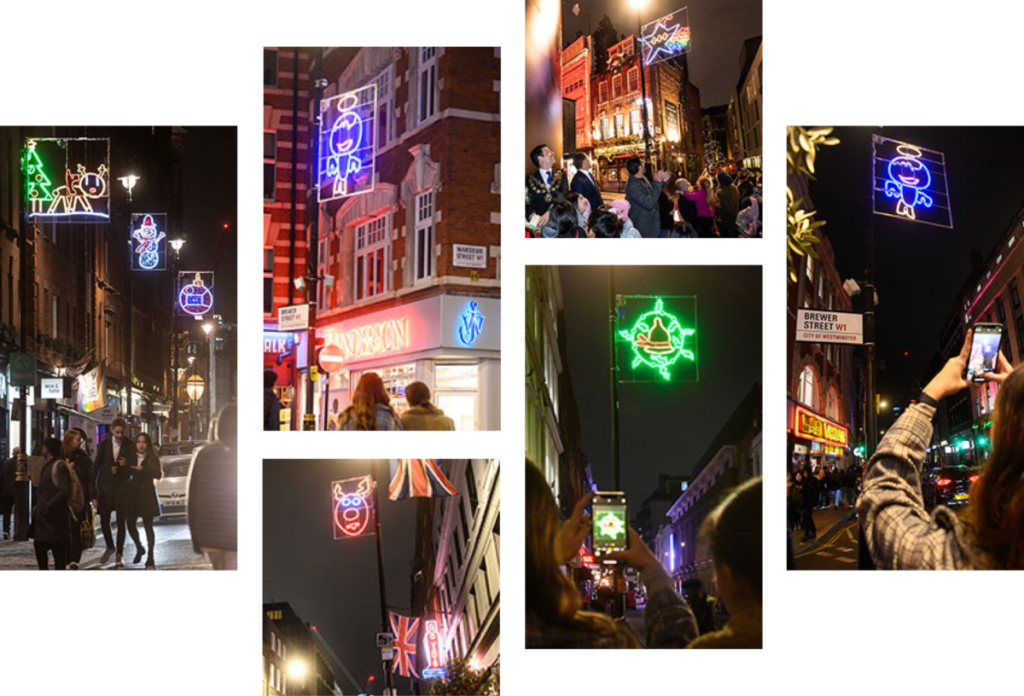 The Soho Kids Xmas Lights program aims to use the study and exploration of identity of place and lighting in architecture to introduce a spectrum of topics and concepts to pupils, from science, technology, engineering, arts and mathematics (STEAM), and inclusion; as well as provide community engagement and cultural awareness and connection.
In our initial exploratory workshops with the children, we used drawing to explore the themes of identity, place and lighting in architecture. This then provided an introduction to learning about their local area and community, alongside enabling hands-on experience to spark implicit learning about the place and the science of light.
Pupils who take part in the Soho Kids Xmas Lights program are encouraged to think about not just the design of their Christmas lights, but also what materials they will be made of, and how the light will be formed out of its components. This learning journey naturally progresses and blends with implicit learning about design and engineering during our workshops, while bringing these concepts into reality through hands-on problem solving with structure and fabrication.
Celebrating the Process and Outcomes
"This project is a good opportunity for us to express our creativity. I designed this to include our school logo so it can welcome people to our school."
Celine, Year 4, Soho Kids Xmas Lights 2021
This project aims to give children agency and power through design opportunities, inviting them into a full design journey with guidance and support from educators and practitioners in the built environment field. Working through a project from concept to completion allows for direct experience of the iterative design process and collective creativity which are central to architect's and lighting designer's work, along with the problem solving of engineers and the making methods of fabricators and trades.
As a fitting conclusion, each year the project culminates in a 'switching on' event in Soho, which gives students the opportunity to showcase the design and creation skills that they have been developing during the project. It also shows the children first-hand, the power that light has to bring communities together through celebration, and the light objects made by the students during the darkest months of the year.
This year's switch-on event is on Saturday 3 December starting at 4pm with a presentation, the winners' announcement, and RIBA awards ceremony at The House of St Barnabas, followed by the official switch on event on the street attended by the mini Mayors of Soho and the Lord Mayor of Westminster. This is a fantastic opportunity for everyone to come together and celebrate the work of the pupils, as well as the benefits initiatives like this bring to local communities, so if you are in the area on this date make sure to drop by. Soho in particular is an important home to the Kids Xmas Lights project, thought of by so many as a place to just visit and party, it is a neighbourhood where families live, play and work. The lights will be on until 7th January.
Architecture for Kids CIC was was awarded a 2022 Commendation for One-off programme children for Soho Kids Xmas Lights at the Thornton Education Trust's Inspire Future Generations (IFG) Awards on the 28th November 2022.