Written by:
Before starting my internship with The Glass-House Community Led Design, I wasn't aware of the importance and the benefits of connecting communities to place. Whilst attending events and being involved in research with The Glass-House I have developed a great understanding of the opportunities and initiatives that come about when communities are connected to their spaces and are involved in various design processes. Starting a community led design process to improve local spaces offers the opportunity to bring communities together and a good tool to use throughout the process is social media.
Social media is an important channel for reaching and engaging different audiences. Whether your project is big or small, social media like Twitter or Instagram can be a useful tool to keep people updated with your latest project activities. However, getting started with social media when trying to gain awareness for your cause can be very daunting. Therefore, planning and identifying some key areas of focus before you begin can help to support your strategy.
Here are five simple tips to help you get started:
Tip 1: Identify your goals: What do you want to achieve with your social media channels?
Are you trying to connect with your community? Or spreading the word about a project or event? Whatever the aim, try to come up with a set of goals that are specific, measurable, achievable, realistic and timely (SMART). Considering some of these questions should help you to create content that will be in line with your goals and will attract the audience that you want to connect with.
Tip 2: Understand your target audience: Who are you trying to reach?
Researching the community that you aim to engage will help you to think of ideas for content that will appeal to this audience. Having clarity about who you want to engage will also help you to decide on the right tone and approach.
Both of the above posts appear to be targeting young people. The post from @doitforstraphs Instagram specifically states its target and uses images of young people to make this clear. The @middlesexuniversity post makes use of the selfie angle, successfully following a trend amongst this audience. The use of the abbreviated word "faves" also helps to establish a tone that would appeal to their chosen demographic. Overall, both posts display effective ways of targeting.
Tip 3: Stay on track with a social media calendar: Make a plan!
Consistency online is important if you are trying to keep people engaged. However, you also want your content to be meaningful, so you are aiming for quantity and quality. Creating a social media calendar that creates a brief outline of posts for upcoming months will enable you to deliver more frequent, purposeful posts. This could easily link to activities and events you have coming up or that have already happened.
Here is an example of what your social media calendar could look like and how you could plan out your future posts.
Tip 4: Humanize your account: Talk to your audience!
Showing that you are willing to interact through your social media can help to engage communities as it helps them get to know you and shows that you appreciate their presence. You can put this tip into practice on your social media channels by replying to comments, asking and/answering questions from your audience (this is made easy using the questions tool on Instagram stories), using first names on your posts/introducing your team members on your account.
Instagram "Questions" is a sticker that can be added to your stories. It enables your followers to submit questions that you can answer publicly on an additional story. 'Ask me a question' is the default text but it's a good idea to adapt this question to match the tone that appeals to your audience. In the @rainhamhall Instagram post it appears they have successfully humanized their account; starting the caption with a greeting, using first names, and adding an emoji at the end almost resembles the style of a text message which all helps to make the caption more personal.
Tip 5: Review your posts: Analytics!
See what channels and posts have been most effective in engaging your audience by assessing the analytics for each social media platform you are using. From this you can decide to continue creating content that appears to have the most engagement and/or pay more attention to weaker areas.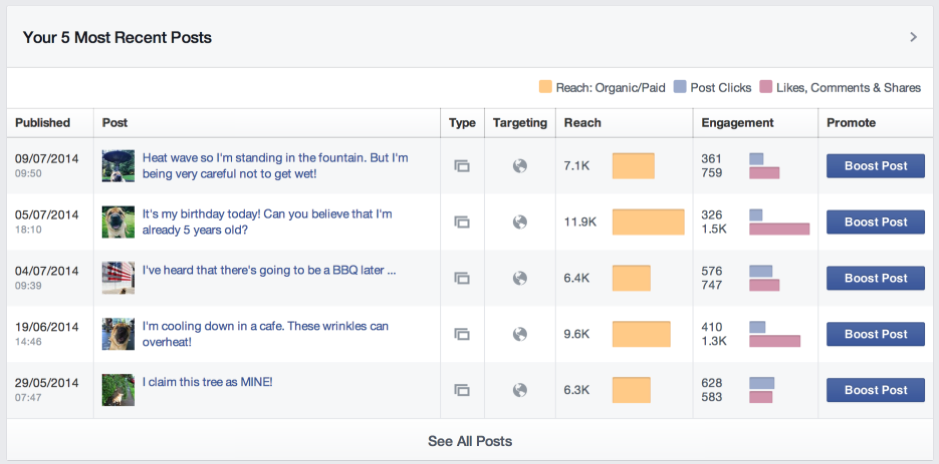 The posts above are screenshots of facebook analytics. Figure 6. shows an overview of insights whilst Figure 7. shows the number of accounts reached by each post and the different levels of engagement. By looking at this data you can decide whether to promote posts by selecting 'boost post'. Looking at the data for individual posts can be more useful than overall data when deciding which content is best to continue creating.
Summing Up
There's no doubt that social media can be intimidating, especially when words like analytics are thrown into the mix. However, simply figuring out the 'why', 'who' and 'when', maintaining a human persona throughout, utilising the simplified analytics tools available, planning ahead and creating a clear strategy when getting started makes things a lot easier. If you are still stuck on how to begin, it's always a good idea to look at accounts that have a similar ideal to yours to help you get inspired.
Toni Dyer Miller is an intern at the Glass-House Community Led Design. She is currently studying Marketing and Digital Communications at The University of Hertfordshire.