Written by:
On February 24, we hosted Diversifying Design: Urban ecology by, with and for diverse actors, our second hybrid collaborative event in our 2021/22 WEdesign event series Local Places, Global Issues.
The Glass-House team worked alongside Dr Lucy Natarajan, an Associate Professor at the Bartlett School of Planning and students studying Urban Ecologies through UCL Bartlett's MSc in international Planning and MSc in Spatial Planning to explore both how we can give nature a voice in co-designing the city and what cities can do for nature. The event was broadcast live out of UCL via zoom, with participants from a range of backgrounds and disciplines joining us online and students (both undergraduate and postgraduate, spanning multiple courses) from the UCL Bartlett School of Planning participating in person.
This event paused to think about the importance of how urban development can work, with and for natural ecologies weaving a tapestry with our nonhuman actants (nature, insects, animals). We aimed to discuss the different voices of nature and how these urban ecologies can have more of a permanent voice in placemaking.
Dr Lucy Natarajan foregrounded the event with an introduction to the importance of diverse urban ecologies and the work our student facilitators would be doing through their Urban Ecologies Pillar module. She spoke about the dissonance between the built environment and the natural ecologies that occupy the urban realm, between humans and nature. Our contemporary narratives have shaped our understanding of our relation to nature as separate binaries. However, urban environments are complex living ecologies with built, natural and hybrid dimensions.
Through the event, we set participants (both online and in-person) a collaborative task to co-design propositions for how we can better think about the many diverse voices of nature and introduce them into placemaking. We approached this through the lens of 4 themes:
Policy – shaping policy to empower and enable better and more collaborative design and placemaking
Practice – innovating practice to help us better design our places in a more collaborative way
Community – activating citizens through design and placemaking
Education – shaping and empowering emerging design professionals and using education to activate citizens through design and placemaking
After the introduction and briefing, the students split into 4 groups each group taking a different theme and facilitating breakout rooms with our online public participants. With two student facilitators per breakout room each student took on a different role; one acting as discussion lead, moving participants through the tasks and prompts. The other role was a reporter, helping annotate the conversation, ensuring that all the voices were heard and captured.
Previous collages from last year's WEdesign event series were used as prompts to begin discussion around diversifying design. Using Miro they mapped conversations and collaged their ideas to co-design the inclusion of nature within these multiple themes, that all contribute to successful placemaking.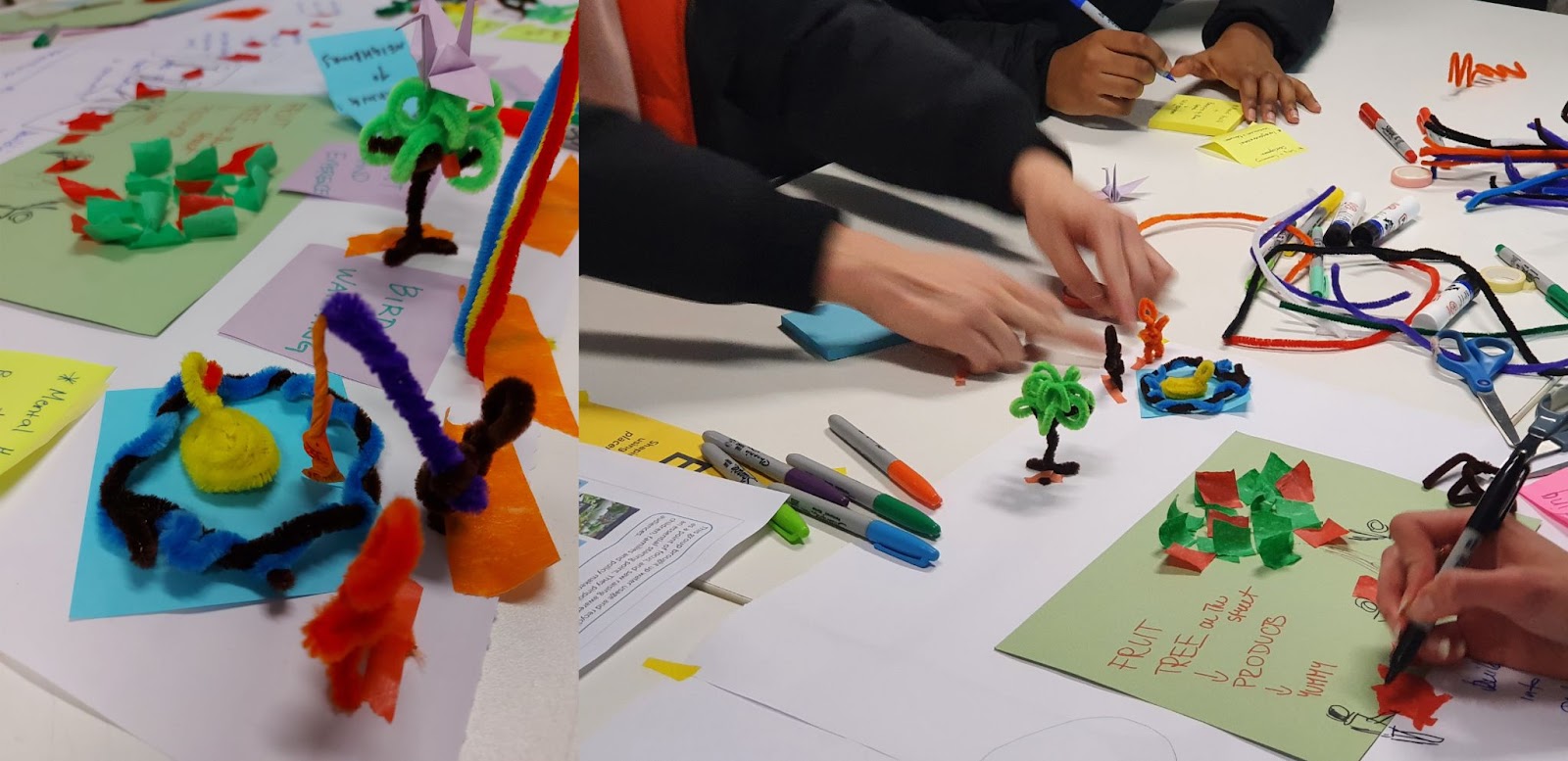 There was a 5th co-design group with students in-person which was co-facilitated by Sophia (of The Glass-House) and Associate Professor Lucy. With the help of our crafty box of tricks, using pipe cleaners, colourful tape, paper, pens, this group collaged their vision onto a large sheet of paper.
After 40 minutes of discussion and co-creation, the groups were invited to share back their creations and snippets of their conversation with all of the attendees.
Policy
The policy group considered the important role of local authorities and central government in facilitating a more engaged relationship with nature, and explored how they could challenge policy and the use of our systems to create more equity surrounding green spaces.
There was strong emphasis on the importance policy has in recognising, understanding and championing ecological processes, especially through the lens of the Climate Crisis.
The group noted that budget cuts, multiple owners of green or public space and overly stretched resources can often create the barriers and disparity between those who have access to green space and those who do not, and that therefore policy tackling this was a first step towards creating a more public-facing dialogue around our ecology.
Practice
The Practice group focused on how to innovate and better design our places through the collaborative effort of bringing intergenerational conversations and voices together with and for nature as catalysts for change.
This group considered the role of trees within the urban realm as a form of social infrastructure. How can trees support an exchange between generations and bring people together? How might those people in their later stages of life remember the biodiversity of the past to inspire the present; and how might the younger generation inspire and celebrate biodiversity in the future?
There was also a conversation about the values and cultural expectations of our green space. How is it managed and shared by different hands, people and organisations? Where is the line between 'wilderness' and 'mess'? Weeds, shrubs and scrubland are valuable environments for flourishing biodiversity of non-human actors. Humans may consider local authority owned scrublands a mess, a wasted development opportunity, but what about the voices from nature? How can we reform our practices to reconsider what is valuable beyond a human-centric lens?
Community
The Community group focused on activating citizens in their place through their engagement and collaboration with nature. Using the question of how to bring nature to the city, through community as a prompt to kick start conversation, the group centred their discussion around the place equity and the access a community might have to green space.
They began to speculate how they could repurpose underused or 'negative' spaces such as car parks or empty land, with gardens, community spaces and more natural elements that promote a more symbiotic relationship with nature. This idea also alluded to re-enforcing ideas around community care and the role guerrilla gardening could have in activating communities and citizens to have more agency within their place, in addition to strengthening collective values around the importance of biodiversity.
Education
The online Education group focused on the activation of citizens with nature in placemaking through the use of knowledge exchange and shaping how we learn.
The group began the conversation by discussing how best to engage individuals and groups as well as different ways of educating or imparting knowledge. A number of ideas emerged that drew on; intergenerational learning, using gaming (minecraft) as a catalyst for discussion, exercise and play with landscapes and the environment, alongside many other suggestions.
There was also a focus on understanding the various ecological processes. They challenged our knowledge of cradle to grave processes for an array of products we use daily and the impact on biodiversity as a way of creating more consideration for the ways we interact with the environment around us. They also touched on learning processes of growth and the cyclical nature of our ecologies which include insects, plants and animals.
Education (In-person)
This in-person Education group focused on education through the tactile experience of nature. They speculated on ways to bring nature into the foreground of our lives, through creating more visible connections with our arboreal partners. One suggestion was framing the life of trees through a bus stop window – allowing for daily commuters to understand the change of nature and witness more closely the seasonality of the environment.
The group also explored introducing growing processes that serve as spaces to catalyse community collaboration as well as becoming teaching tools. The development of a community orchard could embed principles of growing from cradle to grave as well as considering the cyclical nature of growing, all while bringing people of different ages and cultures together to share and connect with nature, and with each other.
Conclusion
There were many threads to be drawn across the different groups and the themes they explored:
Many groups talked about intergenerational exchanges, education starting in the family, learning from those in later stages of life but also learning from children.
There was much discussion of the importance of re-establishing the connection between humans and non-human actors and speculation on how that might be achieved.
We stressed the importance of ecological processes running in parallel and in harmony with our own. Watching plants grow through the change of seasons and connecting with the different ecological processes and actors that are involved can inspire us and help embed a more considered relationship with nature.
Above all, we need to learn how to manage, share and relinquish control over certain elements of nature. We need to develop a more symbiotic approach to how we work with and for the more natural ecologies that are so intimately intertwined with ourselves, the urban realm and the built environment.
We'd like to thank all of those who took part in the event, sharing their experience, knowledge and ideas with generosity and creativity within our hybrid event. We would particularly like to thank the staff and students at UCL who welcomed us all into their learning environment and helped catalyse this insightful interdisciplinary conversation.