Written by:
On October 13, we hosted our Place Equity: Making great public spaces a reality for everyone, our first hybrid collaborative event in our 2021/21 WEdesign event series Local PLaces, Global Issues. The event was delivered in collaboration with BA3 students and lecturers from Manchester School of Architecture's PRAXXIS atelier to investigate inclusivity and equity in public places. In particular, we revisited recent discussions about people's safety on the streets and explored ideas and concepts that would make places safer, more accessible and more welcoming to everyone.
The Glass-House team worked alongside Emily Crompton, Senior Lecturer at Manchester School of Architecture and third-year PRAXXIS students to co-design the event, and were also were assisted by post-graduate students on the night. The main task built upon the undergraduate student's current design brief, and they worked with our event attendees to co-create a design for the space outside The Pankhurst Centre. The groups were also encouraged to consider the location and massing of a new building (The Feminist school of *blank*) on the site, which would help influence the design of the surrounding public space. Participants were restricted only by making no changes to the Centre itself.
The students had created a site model for those in the room to help them contextualise the space. All of the participants were also introduced to the site by a student presentation to help us set the scene for the co-design activity.
After the introduction and briefing, we split into eight groups in total; four groups in-person and four groups online. The in-person groups used 'The Big Draw' (a collaging method often used by PRAXXIS with their students to generate architectural ideas using precedent projects in a hands-on and engaging way) to collage and build their vision, working on a large map of the site and using pipe cleaners, collaging materials and colourful paper. This allowed the teams to quickly build their shared idea while considering the mass, activity, density and appropriateness of their creation within the site context. We replicated this activity with the online participants, using the online whiteboarding tool Miro to build collages with digital images.
The students took the lead by facilitating both sets of groups, and their facilitation teams comprised of a lead Facilitator to lead the task, a Scribe to note the ideas and discussion points and a Documenter, whose role was to capture the flurry of thoughts and action via photography, film and or sound recordings. A number of Masters students were also on hand for support.
Each group was given one of the following themes to focus on while co-designing:
Practice – Innovating practice to help us design better and in a more collaborative way
Policy – Shaping Policy to enable better and more collaborative placemaking and design
Community – Activating and engaging citizens
Education – Empowering emerging design and placemaking professionals and using education as a tool to activate citizens
There were two groups exploring each of the above topics, one in-person and one online.
After 40 minutes of discussion and co-creation, the groups were invited to share back their creations and snippets of their conversations with all of the attendees.
Practice
Both Practice groups pondered how practice could support the creation of more equitable public spaces and how practice needs to change and adapt to current issues.
Reassessing whether the area would be a destination location or simply a 'passing-through' space due to its location and proximity to the hospital, the online team opted for a hub with plenty of benches and picnic tables, which in turn would attract passers-by to simply dwell in the space (instead of needing to do or consume anything).
This group also looked to break down car-dominated and inaccessible spaces, both in terms of physical accessibility to ensure the space felt open and welcoming to all. They aimed to set up and preserve more pedestrianised spaces by creating soft landscaping barriers to make a safer and healthier space. Bicycle stands, a plaza for events and shrubbery could all help boost mental and physical health for visitors to this site.
The in-person group created a fun and explorative area with an exciting, welcoming vibe and a 3D rainbow walkway.
They created the 'rainbow' bridge and other outward-facing aspects of the site to create integration and blur the boundaries of the plot. They were keen that their design embodied 'fun' as an attraction and welcoming tool for visitors to the area, and utilised lots of green elements (trees/ landscaping), a key theme we saw throughout all the designs.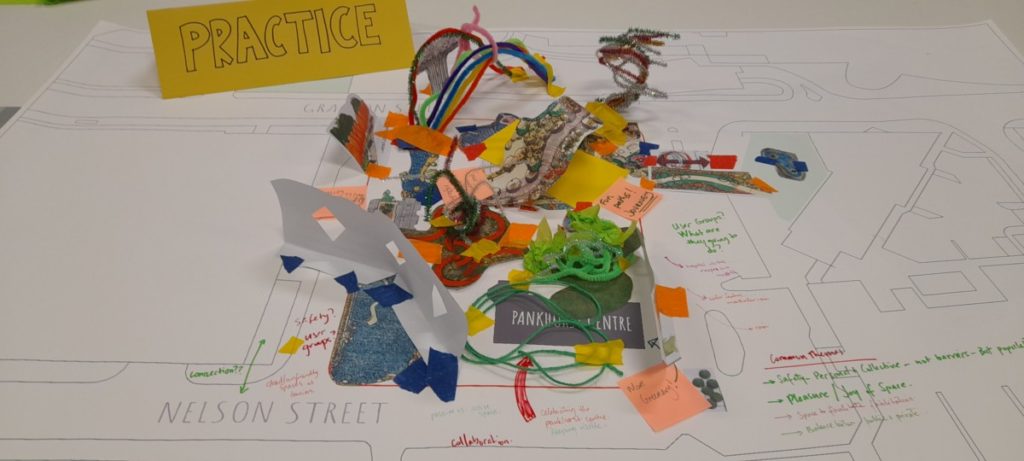 Policy
The policy groups examined how they could challenge or use systems to make more equitable spaces, while also considering how to involve Local Authority, Government and international organisations in driving change.
The online group designed a mix of vegetation for noise buffering on the northern edge of the site, pedestrian spaces and pathways which invited and led visitors in and through the site and a central courtyard for play and interactive events. Assessing open and isolated areas, the in-person group prioritised green barriers to maintain and establish the different sections, which included a seated area.
Community
How to activate citizens in developing more equitable spaces and deciding who needs to be involved were the main discussion points for the community groups.
The online team was particularly interested in how people could be attracted into the site, and noted that the space could also be utilised for exhibitions and installations. They decided to include a quiet space to establish an interactive, multifunctional and ever-changing space that would attract different audiences. This group was keen to retain visual transparency and permeability into the site to encourage feelings of safety and welcomeness.
Considering where and how the students, Hospital staff and patients use the space, the in-person community team was mindful of designing different segments for diverse experiences. For example, patients may want an intimate space for private conversations, or students may want a space to meet up with friends or just to sit and text someone. They also felt that the site presented a great opportunity to create space for potential political activism. As Manchester is renowned for its wet climate, the group wanted to include a water feature within the site which came to life in the rain and supported the growth of green elements of the site (detailed in the above sketch).
Education
Lastly, learning was the focus for the Education groups. What learning could we share with design professionals to make better spaces for everyone? And how can we all, citizens and activists and designers alike, learn more about making equitable spaces?
Green spaces as safe dwelling spots for safety and relaxation were a main focus for the in-person group, and they also debated the definition of political spaces and how to generate them. They decided that co-designing and making these spaces collaboratively with a diverse group of people would help to create an equitable and enjoyable space for the general public.
The online group focused on feelings and the concept of comfort, leading them to design a green space with a sensory area. Acoustics, neurodiversity and way-finding were all facets of accessibility this group felt were important to consider and address within their design, and they proposed that the best way to explore this would be to bring a variety of people into the space for engagement activities.
In Conclusion
Many themes of commonality emerged across conversations during this hybrid event:
Personal and collective safety: reflecting on not only the experience of one person but various people to create considered solutions, and where possible, using natural and landscaped, not just built elements to do so.
Boundaries came up often but not in the traditional sense. Some of the ways to define the space suggested were very visual, fun and or green, intending to further beautify the space while attracting people to visit and find delight in the area. We also spoke about accessibility barriers, and inferred barriers in terms of who may feel welcome in spaces and why.
Creating activity and spaces for connecting and for joy came up time and time again. After the last 18 months, people are clearly itching to meet and interact with each other.
The politics of space, speech and activism, on the whole, was a key point that was particularly focused on by the Community groups.
The event was a fast-paced and fascinating exploration into ways of making spaces more equitable, safe and fun for us all. We look forward to continuing our debate and discovery throughout our current event series.
We'd like to thank Emily Crompton, Helen Iball, and all the students for their planning and hard work.
We'd also like to extend our thanks to all the attendees who were very patient and generous throughout this experimental event. Accommodating a mix of in-person, online and integrated activities for our participants, no matter how much we had planned, offered a series of technical challenges that required us to think on our feet and to reconsider. This was an important learning space for The Glass-House as well, and we look forward to working with our partners on upcoming events in the series to further develop and perfect our hybrid interactive co-design events.
Place Equity: Making great public spaces a reality for everyone is part of our WEdesign series Local Places Global Issues. We'll be announcing the next event in the series in due course, sign up for our newsletter below and keep an eye on our events page for more information.