Written by:
Over the past fifteen years, The Glass-House has worked with many social housing providers to support communities and staff to learn, collaborate and make positive changes to improve local places.
The past year has been no different and we are proud to share our stories as part of #HousingDay as the sector "celebrates the positive impact of social housing on thousands of people across the UK".
Working closely with residents and staff, we have run a range of workshops and activities to empower participants through skills development, facilitating action and enabling reflection. Here's a taster of what we've done:
Watford Community Housing Trust
Watford Community Housing Trust engaged The Glass-House Community Led Design to support their work to empower the community of the Meriden Estate in Watford in the visioning and design process of their changing neighbourhood. Support from The Glass-House focused on empowering residents and other members of the community to better understand and contribute to improving the quality of place in the Estate. Activities included regular open workshop meetings, design skills workshops, a facilitated study tour and an open day to engage with the wider community in contributing their ideas for shaping the estate.
Affinity Sutton
Our work with Affinity Sutton in Spring 2015 helped to facilitate a conversation between local people on the Mountfield Estate and Affinity Sutton staff to explore and creatively capture local perceptions, challenges and ideas for their place. These activities were followed by a workshop with Affinity Sutton staff from across the organisation to reflect on the learning and consider and agree future actions and activities.
Wandle Housing Association
We delivered skills development for residents and staff to support community involvement in design, in connection with Wandle's three-year open space investment programme My Space. As part of a design training activity, we took participants on a study tour of local community open spaces in South London (on a rainy Thursday in February!) and we've shared some of the learning from this activity on our blog.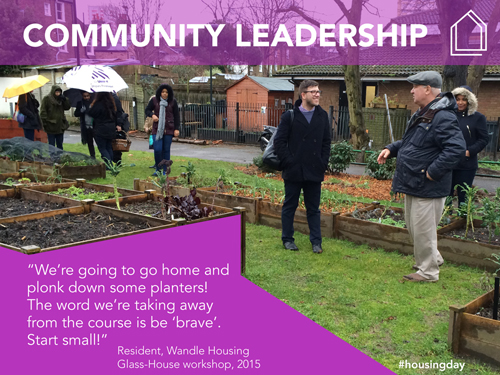 Collaboration for Innovation in Place
In September, we hosted a workshop with housing and placemaking professionals to explore how collaboration can lead to innovation in placemaking. The event was an opportunity for participants to explore and discuss ideas and challenges, with a view to identifying new, innovative ways to bring together resources for joint action. We've written about the event on our blog, which includes an invite to get involved!
National Federation of ALMOs conference
We were invited to speak at the annual conference of the National Federation of Arms-Length Management about our approach to supporting collaboration between housing providers and communities. We also shared our views on their blog.
We look forward to working with residents, communities and staff for years to come. Get in touch to find out more.