Written by:
As part of our WE design event series, The Glass-House invited participants who attended our first event in Glasgow on 7 October 2019 to share their thoughts and reflections with us.
By Kate Samuels
I was pleased to attend Intergenerational Cities, the recent Glass-House event held in Glasgow, itself a hub of intergenerational activity and the place where our office for Generations Working Together is based. It was encouraging to see so many students and young people in attendance: at one point, we discovered that the ages in the room spanned from early 20s to 70s. This meant that we had a truly diverse discussion on the night, which I think is invaluable for a productive and thought provoking event, especially when it comes to the topics of design and community. The room was split into four themed tables: power, diversity, sustainability and connection, where we were challenged to come up with a conceptual model. I picked the word connection, as this informs my work greatly, and I felt that I could contribute to the discussion.
Connections are key to intergenerational practice, as without generational crossover, you are less likely to make an impact. The most common definition of intergenerational practice was coined by the Beth Johnson Foundation in 2001 that states: "Intergenerational practice aims to bring people together in purposeful, mutually beneficial activities which promote greater understanding and respect between generations and contributes to building more cohesive communities. Intergenerational practice is inclusive, building on the positive resources that the young and old have to offer each other and those around them". I often say when introducing the term that intergenerational practice is about connecting people from different generations that otherwise would not have met.
If you think about how many friends you have from another generation, chances are, not that many. How often do you connect with strangers of different ages? Again, unlikely that you do at all. Although this seems natural, this disconnect has steadily increased over time. We also know that loneliness and isolation are on the rise, with the number of over-50s experiencing loneliness is set to reach two million by 2025/6. This compares to around 1.4 million in 2016/7 – a 49% increase in 10 years (Age UK 2018, All The Lonely People). So it seems like we could all be a bit more connected in our everyday lives.
In our group, we had a variety of ideas about what our model could be, and discussed what we would need to make the ultimate intergenerational space. Opinions differed from open vs closed spaces: one that you can join vs a pre-planned project. We talked about wellbeing, and the resources that communities have, for example vacant high street units. How do we make a space not just accessible, but also comfortable?
Through my own work, for example on the Jedburgh Intergenerational Campus which is currently in development, I've found the differences between all ages and intergenerational spaces. The former is open to all community, while the second is a space that specifically brings younger and older groups together. Intergenerational activities and spaces are needed because that connection is missing. While accessibility is important, we also need to look at how to best achieve powerful, community focused outcomes that work for everyone.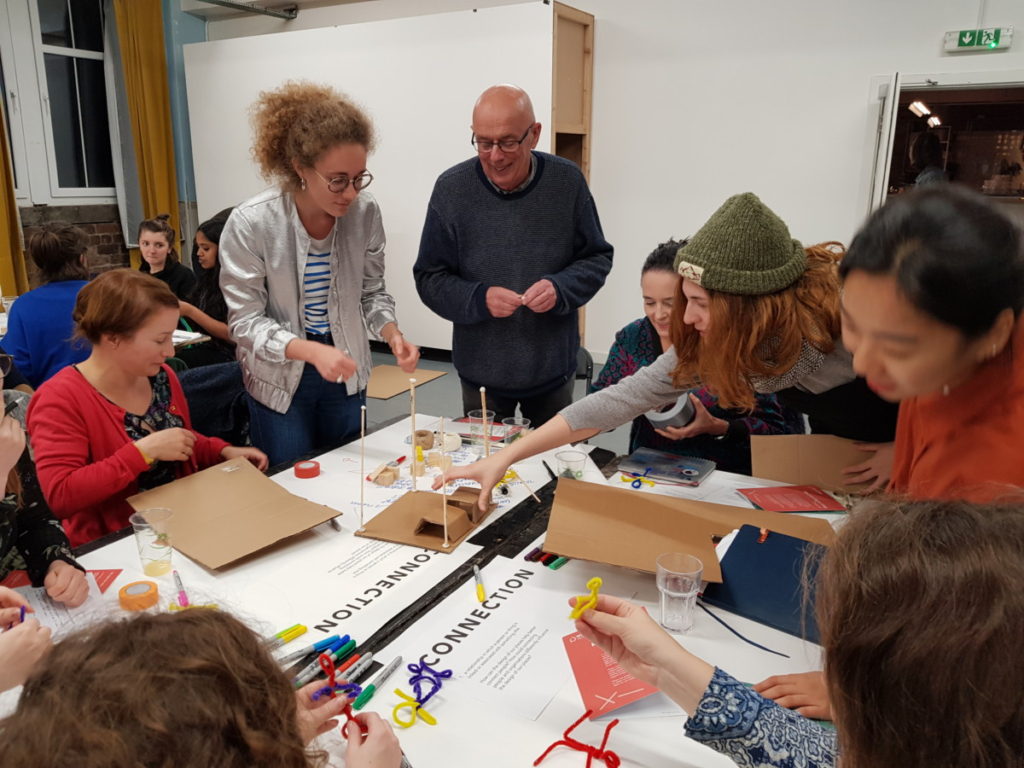 In our group, we proposed an intergenerational hall based in a secondary school with a seasonal programme of activities including music, arts and gardening. It was a space that was accessible, but also welcoming, and one where participants could all learn from each other. It would be great to see something similar in real life, our communities need it.
For more information, I would recommend reading the research from Penn State University on Intergenerational Contact Zones.
Kate Samuels is a Communications and Policy Officer at Generations Working Together, a Scottish charity that fosters intergenerational projects, inspires others to start their own, and provides training and events throughout the year.