Written by:
Becky Lyon is an English x Jamaican artist and 'artecologist' exploring how art practice can re-body us back into the animate, vibrant, tangly messwork of our ecology. She is a ranger for London National Park City, supporting grassroots organisations and hoping to re-enchant the perception of urban ecology through creativity. An inherent discipline-smoosher, she has an MA Art & Science from Central Saint Martins and is currently studying MA Art & Ecology at Goldsmiths.
Becky is also one of our cross-pollination champions from our research project with the Open University, 'Cross-pollination: Growing cross-sector design collaboration in placemaking', funded by the Arts and Humanities Research Council. This year Becky, alongside other champions across the UK in different places, has been using the cross-pollination approach to help enhance existing and kick-start new collaborations in her area. Read about her experience organising and delivering a cross-pollination event below.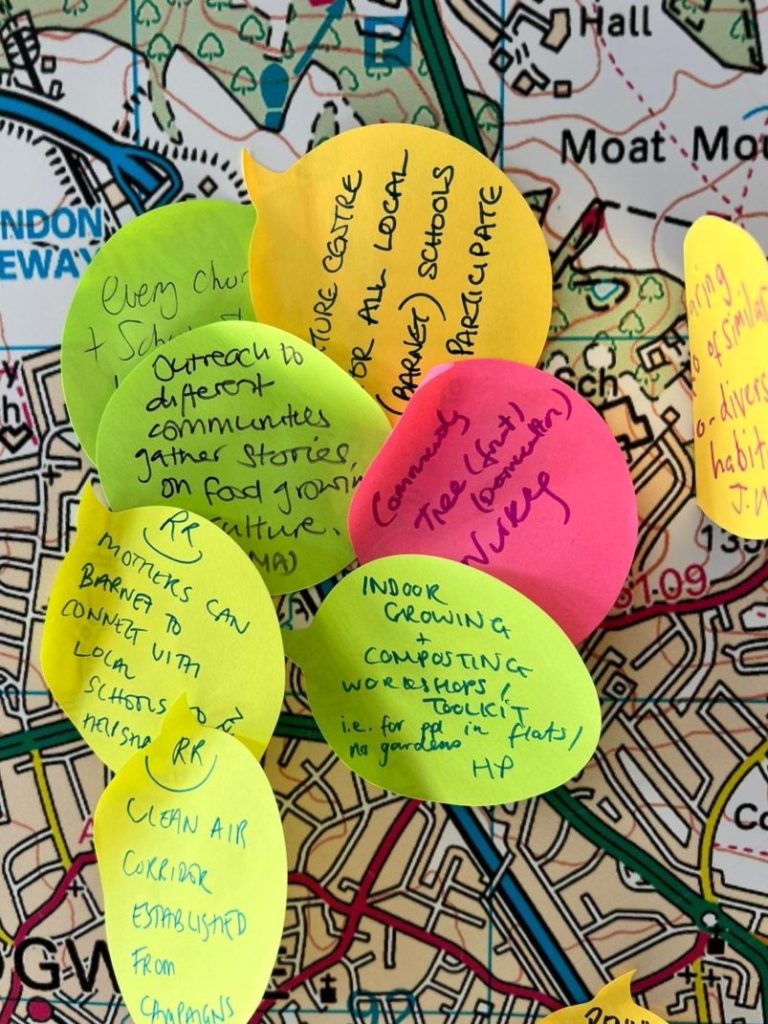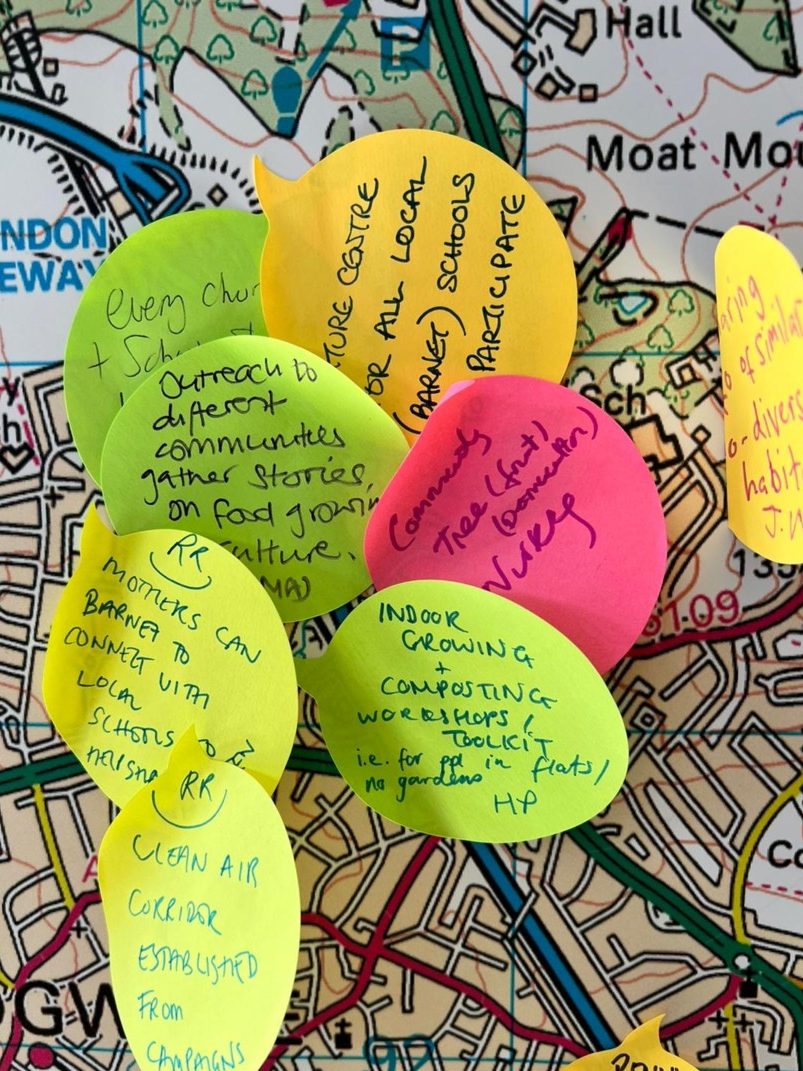 Barnet Council was among one of the last boroughs in the whole of London to declare a climate emergency, but where local government lags…grassroot action is flourishing! The unique borough (1/3 on the green belt) is bursting with initiatives seeking to restore local ecology, resource communities and connect people with their neighbourhoods through nature. As London National Park City's Ranger for Barnet, I saw the cross-pollination method as a fantastic opportunity for these siloed initiatives to meet, collectively identify shared needs and ambitions and unearth opportunities for mutual collaboration by identifying what abundance and hidden gifts already exist in the neighbourhood!
My ambitions for hosting the event were rooted in simplicity;provide a platform for people to meet (it's surprising how many like-minded people never cross paths); identify clusters of need in the borough which could be approached collectively (after 10 minutes of conversation you quickly identify four other groups looking to conduct an insect survey); shake out the skills, resources and tools already available in a time of scarcity (these conversations so often hinge on 'what we don't have').
On an early September Sunday, community harvesters, friends-of groups, gardening groups, allotment caretakers, conservationists, tiny forest seeders, biodiversity initiatives, clean-up groups, mothers action networks and allotments convened around 'Barnet Gathers'. This short afternoon event has already generated some new connections.
Rather than walk you through a play-by-play of what happened, here are some top tips for hosting a rich and fruitful in-person cross-pollination (or any kind of gathering and sharing) session:
1. Open with an element of play!
People are often meeting for the first time and have different levels of introversion and extroversion. Cross-pollination is all about opening up (a lot of talking!), so diffusing anxiety by doing something non-verbal or meditative with your hands can help calm and relax people. At our event, we asked people to respond to a question using clay and share their 'sculptures', but this could also be breathing exercises, drawing or something else similar. 
2. Prep the basics in advance
There is never enough time and you'll find when people are in a room together – they just want to chat!
You can shave time off lengthy introductions by sending out a 'delegates' list beforehand (names, pronouns, boroughs, details and links to their organisations) to help everyone get to know each other in advance. Depending on time, you could also ask attendees to send their 'post it notes' in advance with their existing networks mapped on, l meaning there is more time for review, thinking, clustering and discussion at the event.
3. Agree a 'metric for success' in advance
The challenge with cross-pollination is that often seeds will bloom way after the event! To avoid any unsatisfactory or inconclusive feelings, manage expectations of what happens next – it could be as simple as setting up a WhatsApp group to ensure people can stay in touch, or creating a shared resource, in our case the development of a 'Barnet Directory' to showcase projects in the borough and broadcast opportunities to get involved. It also helps to communicate that the cross-pollination (as the name suggests) really is about seeding ideas that can grow rather than trouble-shooting.
4. Encourage people to use their imaginations!
The beauty of cross-pollination is that it helps people identify opportunities they wouldn't have considered before. The simple act of placing one post-it next to another can spark a novel idea or solve a problem. Participants can often feel that laying their skills out on the table obligates them to volunteer work they just can't fulfil! To diffuse this we had a 'musical chairs' segment where people walked around  the room; stopped in front of the first person; spent 1 minute explaining something they wanted to do whilst the other person responded with a way they could collaborate in a mutually beneficial way and vice versa. People really enjoyed exploring unlikely / low-pressure connections.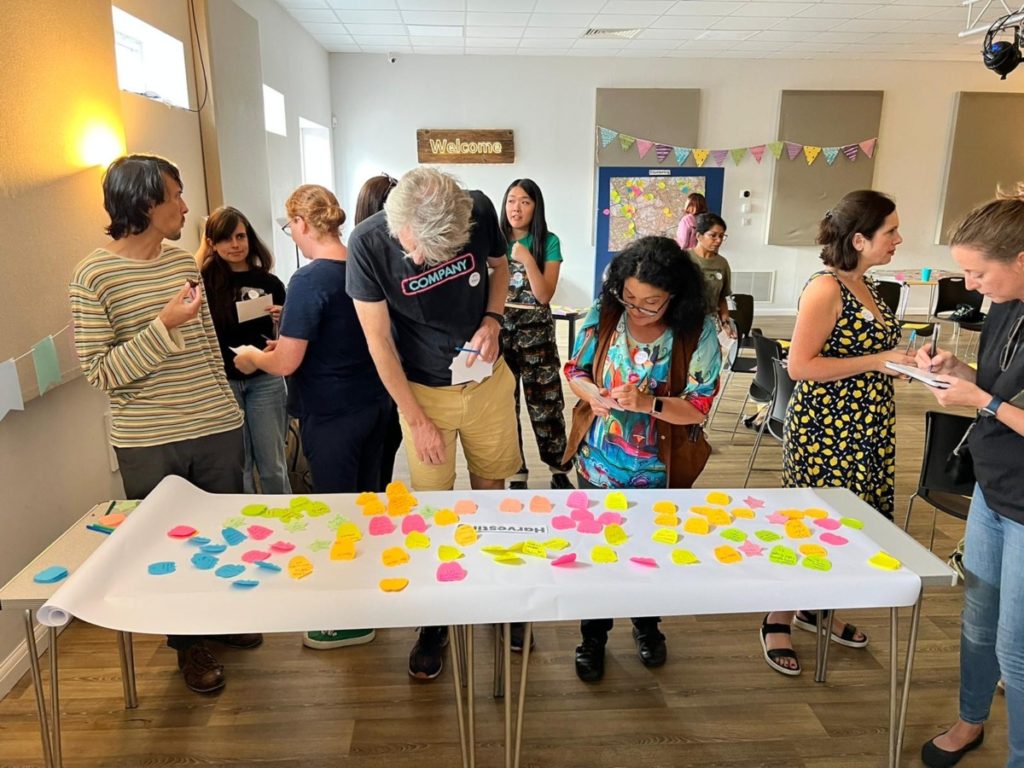 5. Acknowledge different learning types
A group most often comprises participants with varying levels of shyness / dominance, grasp of the English language, energy levels and so on. As well as asking people in advance if they have any access requirements you can help address this by mixing up the levels of social interaction; talking as a full group in a circle, intimate one-to-one chats, small group discussions and solo work. This allows everyone, at some point during the session, to flourish on their own terms and contribute / get the most out of the event.