Written by:
By Grace Crannis
For Portobello Connects, the penultimate event in our Glass-House national WE design event series, we partnered with Architecture & Design Scotland to explore the power of collaboration in shaping places along Edinburgh's shoreline communities.
Based in Portobello, a coastal suburb to the east of Edinburgh, the event sought to delve into the strong sense of community and range of active local groups in the area, in order to map activities and assets, as well as connect people and projects. We wanted to explore what makes Portobello tick, help others learn from their experience and at the same time, introduce and test some of our approaches to collaborative placemaking. This was a new and experimental event format for us, which built on place and project-based approaches we have used in other contexts.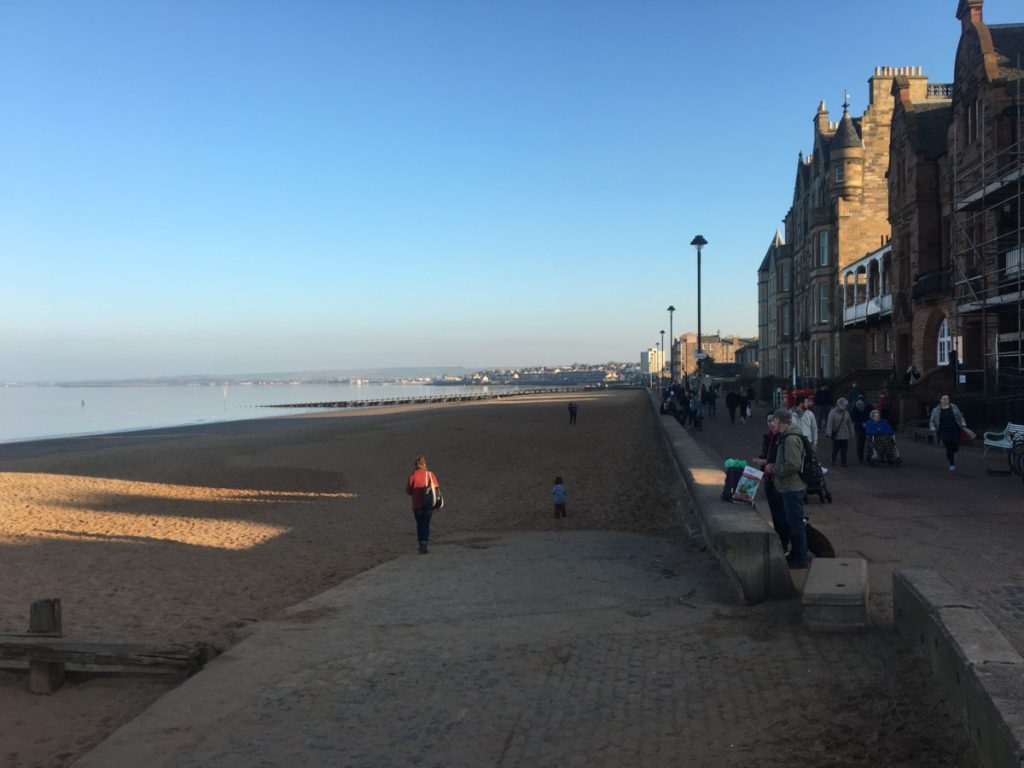 We wanted to provide a space to discuss delight, the emotive qualities of places which are harder to measure and explore a sense of scale, from the local to Edinburgh-wide and beyond. With a mixture of activities on offer, from bean voting to questions on postcards, we invited participants to share their feelings, experiences and stories with us. Using a large tiled map of Portobello and the surrounding area, we gave participants the chance to pin and tag their projects and special places, building up rich cluster of data and stories throughout the day.
The event itself took place at Bellfield, a short walk from the beautiful Portobello beach and promenade. The former church building is owned by the community, and was the first of its kind in urban Scotland to make use of the Community Right to Buy Act when Action Porty successfully initiated a campaign in 2017. As such, it seemed a fitting setting for our event, which was split into an afternoon drop-in and evening workshop in order to give as many people as possible the chance to participate.
We encouraged passers by to get involved, as well as those who had registered for the workshop, and there was quite rightly a question for some as to the purpose of our presence in this space, as this type of event can be easily read as a 'community consultation' at first glance. We had a steady flow of people drop in throughout the afternoon who shared their anecdotes and stories, and we were keen to create opportunities for input relating to Portobello specifically as well as Edinburgh and beyond more generally.
Kicking off the main workshop, we began by asking participants to work in groups to map the key features of Portobello across five main topic areas: transport, social and cultural spaces, spaces for hire and/or community use, sport and leisure and service provision (eg healthcare, post office, schools), which began to build a picture of density and activity. One participant noted the discrepancy between perception and geographic location: "We were struck by how dispersed things were – I thought there was more of a central hub but everything is more spread out than concentrated".
As we settled into more general conversation around the map, several themes began to emerge. There is a huge sense of wellbeing in Portobello, stemming both from its historic foundations as a Victorian seaside resort, the vibrant community and host of seasonal events which activate different parts of the area at different times during the year. One participant told us Portobello is better captured on a calendar than a map due to the density of events.
As a wide, open space with no cars and many active transport routes, the promenade came up again and again as the focal point of most people's feelings about the area. A much loved, dynamic space which encourages impromptu meetings, intergenerational encounters and feelings of pride and safety: "a place where you can get places and do things all at once", as well as the simple magic of looking at the sea and having a chat. The sense of Portobello as a valuable social and cultural asset to the city was strong, albeit one that is currently undervalued.
Scale was a recurring theme, both in terms of the range of perception between Portobello, Edinburgh and shoreline, and the wider development of the city as a whole. Edinburgh is has a projected population growth of 7.7% over the next 15 years, and is under pressure to deliver new housing through the regeneration of places like Granton, the historical industrial area to the north of the city. Portobello itself will be delivering 2,000 new homes in the coming years, an increase of 20%, which naturally impacts upon local services as the area grows.
The impact of timescales was bought sharply into perspective when one young person in attendance told us about her school, which had removed its woodland garden to make way for more necessary classrooms. The garden would not be returned to its former glory for five years, a small amount of time in development terms, but one that amounts to most of her primary school career. This naturally led the conversation towards the tendency for young people be overlooked in engagement, engaged in ways they cannot relate to, or to be treated as separate users of spaces. It emphasised the need to consider the many scales of perception and include multiple perspectives when considering placemaking.
It was also notable that the shoreline itself does not exist as an one cohesive entity, but rather is fragmented due to disjointed development patterns and lack of access across sites. While there are existing initiatives to look at the shoreline more holistically, it seemed that more , joined up conversations could help unlock further potential and assets to enrich the scope of place-based projects and encourage participation.
One participant shared that a change in her son's school run had totally changed her view of the area, and that "daily routine is what drives your connection to a place". It's interesting to note the impact of such arbitrary borders, or the way abstract maps can dictate the way things are designed or shape so many personal experiences.
It was striking how the conversation as a whole was overwhelmingly positive, due in part to enthusiasm in the room. It was commented on that there is seldom a space for such discussion within place-based community group meetings, who often come together for a specific cause, and usually in resistance to something rather than in celebration of a place and to explore what is possible.
With some closing thoughts, the conversation turned to ways the community of Portobello and beyond can collaboratively organise moving forward, unearthing, mobilising and joining up ideas, resources and projects whilst avoiding 'project creep', or the idea that every project has to do everything.
We left Bellfield with an overwhelming sense of the energy in the room, the great potential for connections to be made and for people's time, energy and resources to come together in new ways. We hope the event has helped to spark some new partnerships, and that some of the collaborative placemaking approaches we explored can be taken up, adapted and used by those who joined us.
We certainly learned a lot from the inspiring people and projects in Portobello, and along with the objects produced by participants, will be sharing our findings from the WE design series at our showcase event in London on 26 March.
With thanks to our project partners Architecture & Design Scotland, Frazer Mcnaughton, The Skylark for the excellent catering and Bellfield for their support.
Grace Crannis is Outreach and Impact Manager at the Glass-House Community Led Design.