Written by:
By Martha Isaacs
One bright Saturday afternoon, I visited the famous Borough Market in Southwark. The swarms of people diving for vegetable dumplings, spinach pastries and head-sized meringues in the eighteenth century marketplace created animation and liveliness, and I marvelled at the bustling pedestrian activity. My dreams of walkable, dense urban centres far from the sprawling strip malls of American suburbia seemed to have materialised in the unique rows of local vendors.
However, my inner urban designer became disappointed when I saw that there was no space for market-goers to enjoy their delicious goods. I tried to sit in the courtyard of the nearby Southwark Cathedral, but the area had been blocked off and made inaccessible to the public. A nearby map featured no other green space within close distance. Accepting defeat, I sat on the curb of the street in the hot sun with the other forlorn patrons as cars raced by just metres away from our feet.
This example highlights a reality I have observed elsewhere in London – either walkers do not have free places to linger or they are barred from certain activities in places that appear to be public. From the Shad Thames region, whose residents lament the lack of places to sit in their neighbourhood, to the Olympic Park, which appears to be a public space, but actually bans cycling, skateboarding, busking and political rallying due to its private ownership, London contains a wide variety of spaces that are failing to foster inclusive community interaction.
I have started to analyse public spaces with a new set of questions, influenced by working on The Glass-House's upcoming 2015/16 Debate Series theme, titled 'A Place for Everyone?' This theme, amongst other goals, calls for a more critical questioning of common spaces, aiming for discussions surrounding the condition of the UK's neighbourhood commons. In addition to initial investigation of a space's aesthetic appeal and functionality, thinking about the debate theme has caused me to probe deeper: Who feels welcome in which spaces? Who constructs the rules that govern these spaces? Who feels the urge to pick the newspaper off of the tube floor and place it in a rubbish bin while other commuters ignore it?
Although the author of The Happy City, Charles Montgomery, references the Greek agora as the beginning of public space, scholar Anna Minton points out that these seemingly open agoras excluded women, foreign men and slaves. Perhaps public spaces have never been truly public, but rather a commodity for those that exist in the right social class, right building or right time. London's many parks provide green oases that bring serenity after a busy rush past buses and tall buildings. Nevertheless, many of these parks close at night, rendering even fewer spaces open to Londoners who may, instead, try to rest near the metal studs placed outside of some luxury flats or the bus stop benches designed to discourage sleeping.
On the other hand, I have also experienced some spaces that do succeed in promoting a wide range of uses for a variety of people. I visited Bromley by Bow Centre on a site visit for a Glass-House research project, and was amazed by the centre's ambition to using public space to build relationships. The organisation features a café, nursery, church, and doctor's surgery, but does not lock the doors so that all feel welcome to enter at any time. The centre's park, acquired from the local authority, does not have any restrictions for play, and often contains children and adults of different backgrounds playing sports or enjoying the gardens. In order to encourage conversation, the centre attempts to have few directional signs so that visitors have to ask others in order to find their destinations.
I found another example of inclusivity on a site visit of a mixed-use space in Swiss Cottage. The site includes a leisure centre, theatre, restaurant, drama school, community centre, youth centre, privately-owned and social housing, library and offices, necessitating difference resources for different stakeholders that use the space. The large green area and water feature in the middle of the open space has entryways from all surrounding streets, increasing access to those living in or walking through the neighbourhood. I observed over a hundred children and young people playing in the water feature and sports fields, while older professionals and parents relaxed on the expertly landscaped grassy hills. With nearby bus and tube stations, and even bike racks, the space epitomises the ideal of a reachable, useful community resource.
Places such as these should inspire other communities to incorporate similar strategies into their common spaces. Even though not all of London can operate with the same principles as somewhere like Bromley by Bow, we must begin by acknowledging the importance in having spots for people to sit and feel comfortable in their city, increasing quality of life for residents (or at least improving a trip to Borough Market).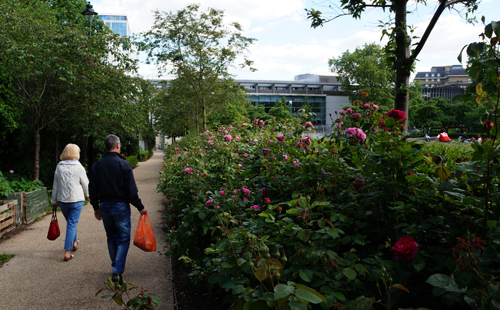 ********************************************************************************************
Martha Isaacs is a student of Geography of Human Activity and City and Regional Planning at the University of North Carolina at Chapel Hill. She is interested in the built environment's effect on mental and physical health, and is currently undertaking a two-month internship with The Glass-House to learn more about placemaking in the UK. Find out about the benches that define public spaces in her hometown, Baltimore, Maryland, here.