This digital event series set out to explore how the Covid-19 pandemic has changed our relationship with the places around us, with a focus on improving and diversifying how we enable great placemaking and community engagement using online platforms and tools.
Project date: 2020-2021
The Story
The Glass-House WEdesign event series Co-designing Sustainable Places, was our first fully online event series, and quite different from previous years.
The Covid-19 pandemic raised many questions about our relationship with nature, our local environments, work and each other, and during this series we discussed the growing need for more to be done in terms of sustainability, place quality and place equity.
The pandemic also created a moment of transition in how we all work, as many of our conversations, meetings and engagement processes moved online. Through this series, we began to explore and test new ways of working collaboratively and creatively to co-design ideas, activities and programmes using a range of both digital and more traditional tools and techniques.
Working with higher education partners, each event in the series was an interactive space in which we worked alongside academics and students across the country to co-design and co-facilitate these free interactive online events. These sessions also linked into the students' current university projects, providing them with a platform to explore their ideas whilst empowering them as presenters and facilitators.
As with previous series, our events brought together community activists, practitioners, students, researchers, academics, policy makers, voluntary, public and private sector professionals and representatives from the design, housing and development industries. The key difference this year was that people participated in the events from different parts of the UK and from all over the world.  
The Air We Share: Inclusion & Policy
26 November 2020
The first event in the series, which was in collaboration with tutors and students from UCL Bartlett's MSc in International Planning & MSc in Spatial Planning, explored sustainability and inclusion using LB Camden's Clean Air Strategy as a starting point for discussion.
The session included the following:
UCL Lecturer and Researcher Dr Lucy Natarajan introduced the current work of her students which explored sustainability and policy, and more specifically unpacking Camden's Clean Air Strategy Action Plan framework. The students shared their research and findings and presented information on new technologies and tools used within placemaking.

A discussion and exploration of co-design creative methods of engagement around clean air, through a group based task, in which participants were asked to create and co-design an engagement activity relating to people, place and sustainability.

A discussion space to share ideas and propositions co-designed in the group task, and to further explore key themes around the interplay between policy and civic action to drive forward the sustainability agenda. 
Water Works: People & Materiality in Place
25 February 2021
The Glass-House then worked alongside The Glasgow School of Art's Innovation School to develop and deliver the next event in the series, which inspired a thrilling discussion on our relationship with one of our most precious resources, water. Natural spaces brought comfort to many of us during the pandemic, however how aware are we of the role of water in the biodiversity around us? We pondered this question among others during this session, co-facilitated by Master of Design (M.Des) in Design Innovation & Environmental Design students.
At this event:
Lizete Druka, M.Des Innovation Lecturer in Environmental and Ecological Design, and Jonathan Balwin, Programme Lead for Design Innovation, introduced the motivations and themes for the student topics, and how they linked to the evening's focus on our relationship with water.

Using Miro, the participants developed creative co-design methods to activate both citizens and different sectors as collaborative placemakers, embedding ideas of value, respect, utilising water effectively and sharing it equitably. This included diving into exploring biodiversity, water access and the cultural significance of water in certain regions such as Mexico and India.

In the discussion that followed, we touched upon the lack of awareness and respect linked to water and water systems around the UK. We acknowledged that by sharing knowledge surrounding climate change, water recycling, and therefore transforming behaviours, towards our ecosystems we can help make the world a more sustainable place. 
Harnessing The Elements: Towards Zero-carbon Neighbourhoods
4 March 2021
Harnessing The Elements was developed in partnership with The University of Sheffield School of Architecture's Live Works and co-designed with lecturer, practising architect and long-time Glass-House Enabler, Leo Care. Second-year students and tutors from The University of Sheffield's BA in Architecture programme worked with us to co-design and co-facilitate the event. 
The event programme featured:
A short presentation from Leo on the student projects which were focused around the London Road area of Sheffield. The students were asked to design a kiosk or pavilion using one of the universal elements (

air, earth, fire and water)

as a means of engaging local people in a conversation about the climate emergency.

Each group of facilitators and participants then worked together to generate ideas for engagement activities relating to: water consumption and recycling; tackling air pollution; biodiversity and ecosystems; energy consumption and systems.

We all then came together to share the fantastic ideas that emerged from the group work and to consider the further potential for using air, earth, fire and water as catalysts for creating easily actionable projects at individual, organisational and community scales, that could help in shaping places with a zero-carbon agenda.
Co-design in the Time of Covid
25 March 2021
Working with UCL Bartlett Lecturer and Researcher Yasminah Beebeejun and her students from the UCL MSc Planning, we looked back on a year of using digital engagement approaches and tools in design and placemaking. Almost exactly a year on from the first lockdown, this event provided a space for all of us to pause and reflect on what we had learnt over the last 12 months from the sudden shift to digital engagement. 
The final event in our series was a bit different from the others, as it also became a space for reflection across the whole series and a time for us to explore and define the key themes that had arisen, and that could be further extracted and developed. 
The event included the following:
We recapped the series and invited each lecturer who collaborated on one of the events to speak about its themes in relation to the student projects, and how the events contributed to valuable student learning and development. One student from each event also spoke about their experience of being a facilitator and partaking in an online co-design session.

The second cohort of students from UCL planning

students presented their initial research supported by The Glass-House, entitled

"Understanding Public Participation and the Pandemic"

.

 We experimented with Mentimeter, a platform that helps users create interactive presentations, to help the students enliven and aid their research and to gather the voices of our participants.

In the discussion that followed we dissected the advantages and disadvantages of digital tools, exploring the tension between them in some ways bringing people together more easily, but also sometimes creating a strange sense of isolation. We discussed ways to make online activities more interactive and engaging, and how to make online events smoother and more enjoyable for all.
The Co-design Sustainable Places event series for The Glass-House was a collaborative effort that brought The Glass-House together with wonderful higher education partners, and a large number of volunteer student facilitators. We experimented with new ways of connecting, conversing and co-designing and are grateful to all who took part.
Gallery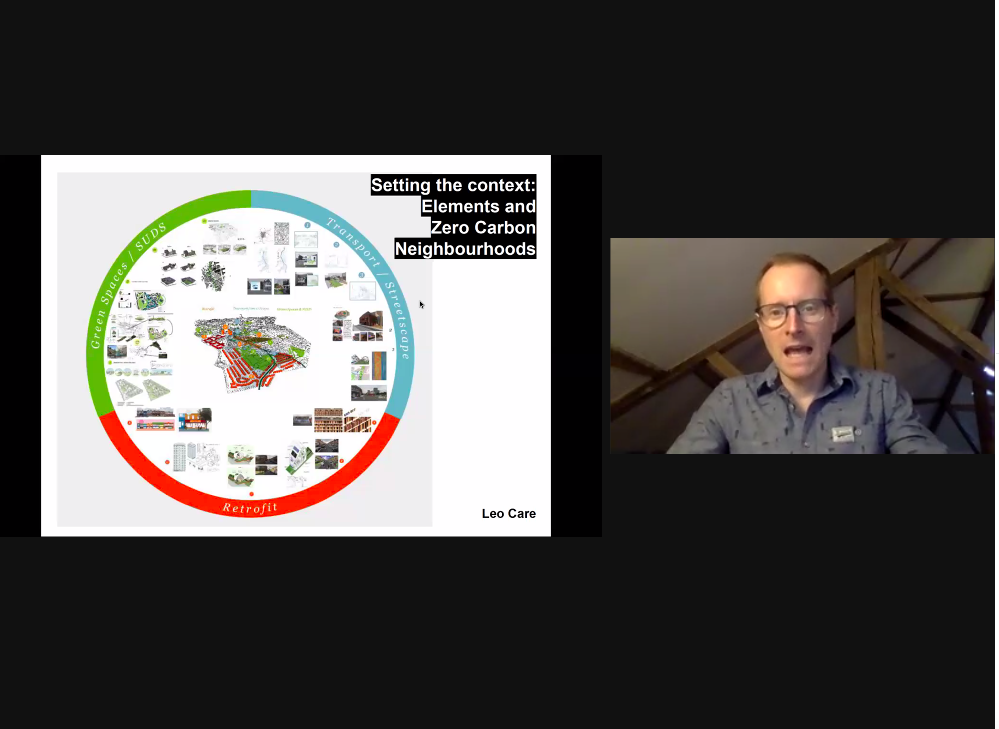 Impact 
The series was a great opportunity for the students to gain real world experience in digital engagement. A vast range of participants and practitioners took part in all four events, enabling the students to connect with a global audience through the use of online tools. The opportunity to facilitate the events gave the students not only a great experience, but also insight into the initial programming and preparation process, as well as some of the logistics of engagement and co-design activities. The events also created a valuable space for students to both showcase their work, and to be further informed and inspired by dialogue with people outside their university networks.
The Glass-House has gained a wealth of new experience and learning from this event series. This was the first fully online event series run by the team, which has opened up the opportunity for a UK-wide and international reach. We experimented with the digital platforms Miro, Zoom and Mentimeter in this event series, and found them all to be interesting and powerful tools to support both dialogue and co-design activities.  The series also gave us the opportunity to test how the interplay of different tools and platforms can add value.   
For The Glass-House, this series provided a wonderful opportunity to build on our partnership working with academic partners, and to experiment with integrating our event series with academic modules and courses. This integration was well received by event participants, who valued the opportunity to connect with students, and both contribute to and learn from their academic pursuits. 
Quotes
Participant and partner views on the events:
Students
"I have never helped facilitate an event like this before so I found it to be a really interesting experience. It was also good to put research from my readings/MSc into practice and play a practical role in designing inclusive strategies." – Student facilitator from UCL 
"This was a really great experience of putting theory into practice. Events such as this really help in understanding the engagement/inclusion topics that we are learning about in the classroom." – Student facilitator from UCL 
"Nice to be involved, to meet and work with new people and to consolidate my understanding of our research topic" – Student facilitator from The Glasgow School of Art 
"I learnt very much, I was part of a very participative group, I validate many of my ideas" – Student facilitator from The Glasgow School of Art 
"It was a very unique experience, especially as it was 'outside' of university" – Student facilitator from University of Sheffield 
"Was very interesting. It was nice to talk to people who seem to want to do something with these ideas." – Student facilitator from University of Sheffield 
Participants
This was a really great event tonight co-designing & learning together to ensure that all parts of the community have their voices heard. Glad that I was part of the creativity!"
"The way the meetings have been run has been refreshing and engaging, with it being not restrictive or constrictive how other online talks/ discussion have been."
"Excellent way of bringing people in and offering opportunities for participation to each and everyone." 
"This kind of activity gives me access to different ideas and chances to meet different people even under this difficult situation." 
" [The students showed] clarity, friendliness and professionalism with good technical use – presenting and capturing ideas." 
"Really welcoming space and always a great experience with Glass-House events."