Written by:
On Tuesday 29 June, The Glass-House was invited to deliver our first in-person workshop this year to a group of Year 6 students from The Willow on Broadwaters, as part a wider programme of regeneration on the Broadwater Farm Estate led by Haringey Council and Karakusevic Carson Architects (KCA). We were joined by our young Enabler Dexter, who co-designed this workshop model with us in our initial gaming workshop, which you can read about here, as well as providing invaluable guidance for this iteration. We were also assisted by a facilitator from the KCA team, Lois Innes, who offered the students design advice and an insight into built environment professions.
The workshop was delivered to a group of 16 students from The Willows School, which sits adjacent to Broadwater Farm Estate in Tottenham, North London and forms part of the Broadwaters Inclusive Learning Community. Developed to introduce the students to architectural concepts and to build confidence with design, the workshop allowed the students to explore design principles through the gaming platform Roblox Studio.
Roblox is a multi-user gaming platform that allows users to not only play thousands of games, but to design and build their own through its sister software, Roblox Studio. We utilised Roblox Studio to allow the children to explore and play with design in a digital environment that they felt comfortable in.
We started the day by diving straight into talking about design principles through the three key elements of form, function and feeling. Talking through examples helped the children to relate to these concepts and understand how the three elements are interlinked, and we used large visual images of different spaces to embed the learning principles into real life examples. Having a conversation with the children about how they felt about these spaces was important, and gave value to their design opinions which would become a crucial pillar for the rest of the workshop.
Exploring Co-design
We then jumped into a co-design activity, which was adapted slightly from our initial plan due to some unexpected technical issues (as is always the way using technology). Dexter and Sophia took the students through our improvised introductory team build activity, where we asked the children to design a house together (as a group of 16) by each of them choosing and controlling one build part. The process served as a learning point about the opportunities of bringing people together creatively through design, as well some of the challenges of co-design, and showed how everyone must work together to make the sum of the parts greater than their individual form. The activity also served as an introduction to the building tools in Roblox Studios that they would use later in the workshop.
Exploring individual designs and buildings
Having talked about design and architectural principles, we then moved onto the individual build task in Roblox Studios, where we asked the students to design and build their ideal house. Starting with pen and paper, the students were asked to consider all the learning from the morning session as they planned their houses with some fabulous results.
Some of the students focused on the exterior or their houses, with traditional pitched roofs and square windows. Others jumped straight into drawing their houses in plan, sketching out furniture and passages through their impressively big houses. Labels helped them identify key elements, and lots of the students incorporated large water features into their designs, either through swimming pools, ponds or large fountains. We were blown away by the complexity and originality of their designs, and how they considered materiality and the feel of the spaces they were designing.
We then set them off on the laptops, asking them to build out their houses as Roblox models. Many of the students had prior experience with playing games on Roblox, but only one had ever used Roblox Studios which meant a steep learning curve as they adapted to modelling in 3D, putting elements together and making sure there was a door for them to enter into their models. However, we were so delighted with their ingenuity, how they shared tips and tricks as they went along and how excited they were to share their ideas with each other.
What would you do if you were in charge of this space?
Following a short discussion about their individual builds, we regrouped for a short learning session about open spaces, and set the main build challenge of the day – the afternoon team build. Going through some examples of open spaces and how they are designed, we were struck by the children's focus on the safety of these areas, and how they perceived more open areas with fewer barriers or restrictions as unsafe or unwise to have children play freely in. We spoke of the importance of learning through play, and that some elements of risk are important to developing skills and confidence.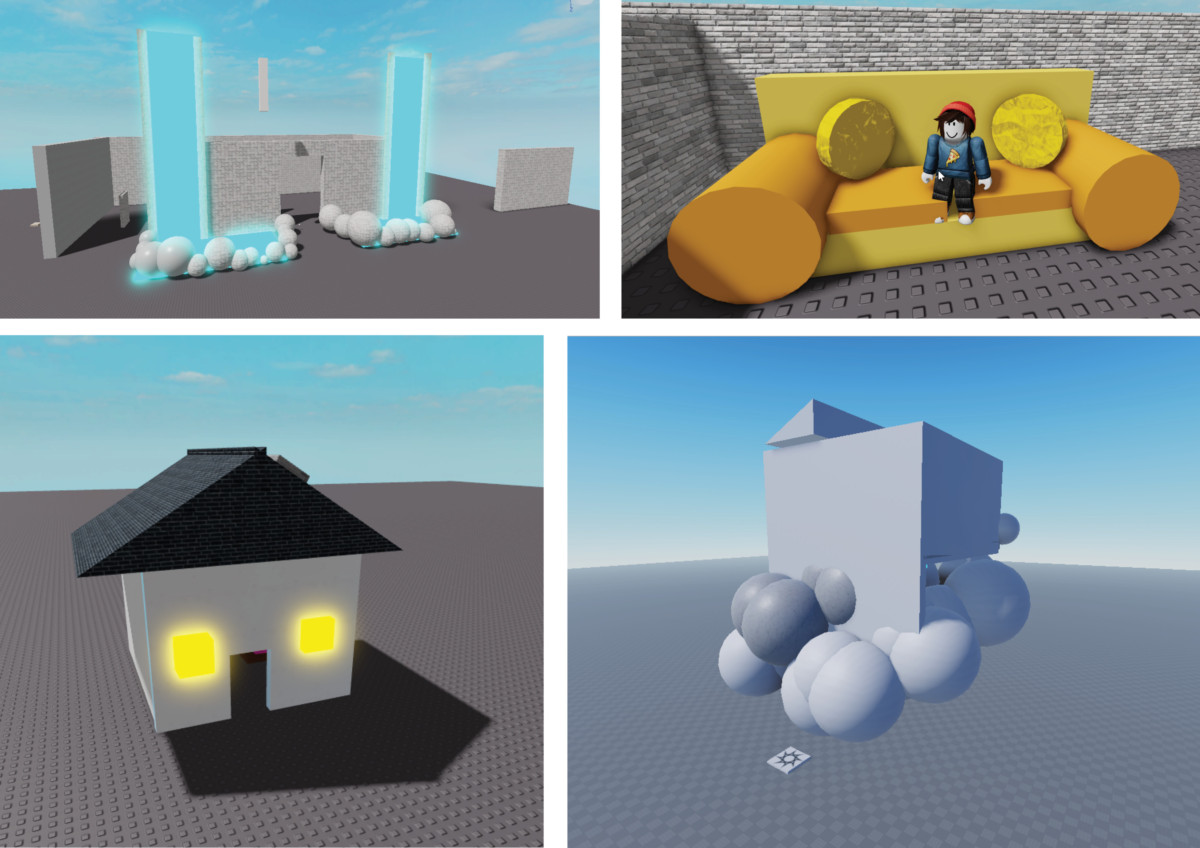 We introduced the team build challenge following this by exploring four sites, two within The Willow's grounds and two within 2 minutes walk from the school, through photographs and plan drawings. We asked them to redesign each space as an outdoor play area, and to consider what they would do if they were in charge of that space. Working in either pairs or groups of 4, they had a short planning session before we broke for lunch to discuss the core function of their redesigned open space, what they wanted it to look like and how they wanted people to feel on their site.
After lunch, the students broke into their groups and each worked communally around one laptop, building together as they discussed their designs and how it impacted the space around the school. The largest of the groups, dubbed 'team yellow' worked together on a beautiful play structure in rainbow shades, chosen to be playful and friendly for other children. One of the pairs, whose site was currently used for bin and bike storage, reimagined the space as a communal garden with the entrance marked by a large statue of one of the school's coordinators as a monument to all the great work she does at the school. A raised pathway led to a designated bike shed, whilst large bushes hid the bin storage in the background. This prioritisation of space was interesting, and many of the children worked to maximise the amount of open space for play whilst designing complex play structures which they could climb, swing and run on. Another pair designed a huge ferris wheel which gave views over the whole estate, with neon stripes to attract attention. The range and complexity of each of the team's builds was so impressive, with the students modelling everything from ball pits to huge art installations inspired by the sun.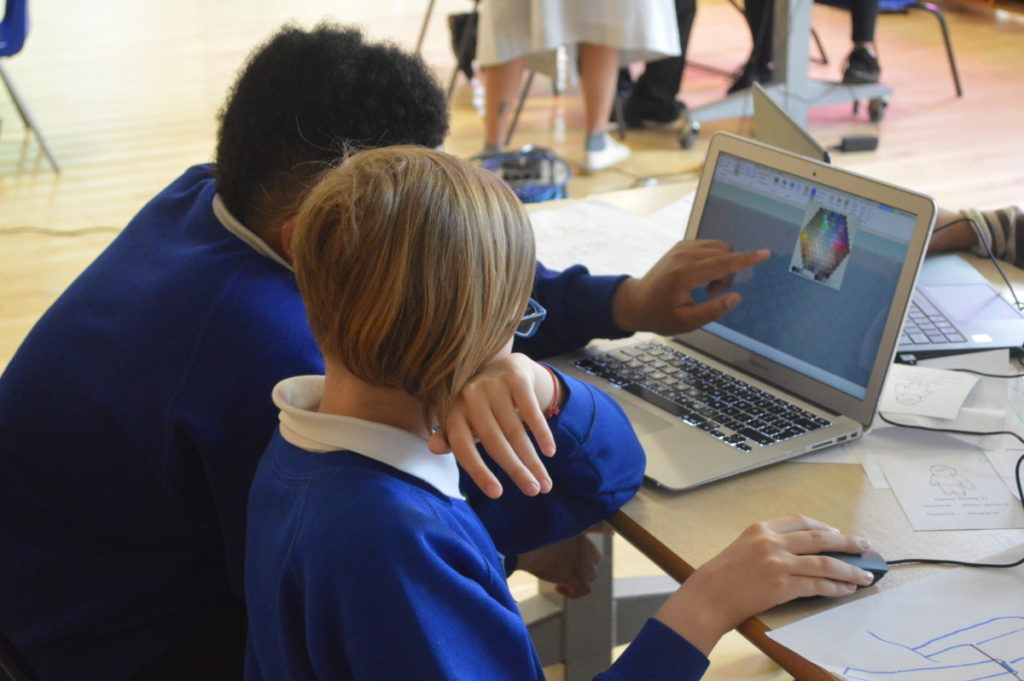 To finish off the day, I took to the projector to walk through some of the students' team builds in Roblox Studio, using the play test function that allows the avatar to explore the built spaces in game mode. We asked the students to share what they had built and why as I walked around their spaces, and the students were so proud to show off their builds to their peers. This exercise allowed us to understand what the students valued about open play spaces and gave them the confidence to articulate their opinions on what they did and did not want. We were impressed with how they took the design principles introduced in the morning session and ran with them to successfully co-design their own open spaces.
Broadwater Farm Roblox Studio workshop walkthrough one – with voiceover from Glass-House Community Led Design on Vimeo.
Walkthrough with a voiceover of the children from the yellow group
We want to extend a huge thank you to The Willow school, and especially to Ms Hawthorne and the 16 student participants who made the day so fantastic. We are hugely excited about the continued application and possible future iterations of this workshop, which we feel is an excellent introduction to design thinking which puts the power in the hands of children, helping them find confidence in designing spaces in a digital environment in which they feel comfortable.