Written by:
The Glass-House delivered a series of Design Training workshops to members of two Community Design Groups (CDG) from St Raphael's Estate in North London and Ledbury Estate in South London. These workshops form part of an engaged design process being led by Karakusevic Carson Architects, working in partnership with The Glass-House and other partners. Both estates are currently in the midst of regeneration projects being led by their respective councils, LB Brent and LB Southwark. We brought the two resident groups together in order to build connections between the two estates who are undergoing similar regeneration processes, and to develop a larger working group to share experiences and ideas.

The Glass-House invited Glass-House Enablers URBED, a urbanism and architecture firm based in Manchester, to co-design and co-facilitate the first two workshops. We worked with architect Helen Berg, who brought her independent design expertise, experience of working in practice and facilitation skills into the first two sessions to support resource development, shared learning and interactive activities.
The three workshops, delivered between September and November of this year, were designed as a series to introduce residents to design language and principles, as well as to help build a shared design language base with the residents to help them engage with each other and the designers about the project and design principles. The workshops also aimed to develop participant's confidence and familiarity with architectural project processes, and allow them to share any new learning back with their wider communities.
For the first time, this Design Training was delivered as a hybrid programme, including both online and in-person workshops. We adopted this approach to combine the advantages of each, and to create as inclusive a programme as possible.
Introducing Urban Design
In our first workshop, 'An Introduction to Urban Design', we unpacked core urban design principles in collaboration with our Enabler Helen Berg, exploring common language and more specific urban design ideas, such as street hierarchy and block layouts. We delivered this digital evening workshop through Zoom, and used the online whiteboard tool Miro to facilitate the interactive activity through which we asked residents to apply and map urban design principles onto their own estates.
Exploring Housing Design
We were pleased to be able to deliver our second workshop,'Homes and House Design', in-person at The Phoenix Garden, a beautiful venue and community garden association in the heart of Soho, designed by Office Sian. We were once again joined by Helen, who co-designed and delivered the session which brought learning from our initial urban design session before focusing on house and estate design. This included exploring the basics of how the different components of housing estates (houses, blocks of flats, community facilities, green spaces and play areas, parking areas etc) are put together.
We went on to explore core language and design features of homes, whilst also unpicking the RIBA stages, reading design drawings and the various levels of information at each stage of design. We used a series of interactive activities throughout the day to apply and embed the learning points we were discussing, and to ensure that the session stayed a fun and interactive experience for all participants.
Reading Technical Drawings
Our third workshop, 'Technical Drawings', continued to build on the first two sessions. We were once again online for this final evening workshop, but changed the emphasis of the interactive activities to use print resources sent out to participants beforehand. We explored common aspects of technical drawings, at what stages different drawings may be used and worked with participants to have a bash at reading architectural technical drawings.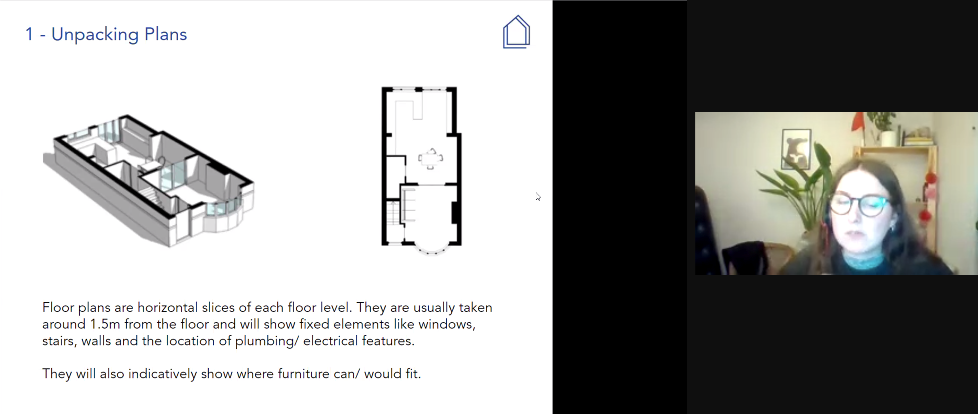 By bringing together two separate communities of participants undergoing similar but unique estate development projects, we were able to not only develop participants' knowledge and understanding of architectural language, processes and drawings, but to also create a larger support network for the residents. Alongside delivering our workshops, we also provided participants with a resource capturing the information covered during the sessions, which residents can use in the future as a reference when experiencing different stages of their estate projects in real time.
We are continuing to learn and experiment in digital spaces, and this Design Training series was a continuation of our exploration of hybrid spaces. We were reminded of the importance of ensuring digital comfort and literacy in order for everyone to be able to engage meaningfully, and to be gentle and mindful with one another as we continue to explore digital landscapes. We were also struck by how wonderful it was to be able to be in physical spaces together once more as part of this Design Training series, and how this positively impacted the final online workshop space.

We developed a short capture report on this Design Training series, available to read here. We will be developing a more detailed piece exploring the workshop tasks and tools used during these sessions in the New Year. Keep an eye on our Improving Places page to learn more.
Read more about our digital and hybrid project events:
We have also been exploring digital and hybrid spaces within our own event series:
Read about last year's Wedesign event series, Co-designing Sustainable Places, which were all delivered online in partnership with several Universities.
You can read about our first event in this year's Wedesign series Local Places, Global Issues, here.