Written by:
By Grace Crannis
On 17 October 2019, we partnered with Civic House for Reconfiguring Place: Intergenerational Cities, the first in our 2019/20 event series, to explore how we can consider all ages in placemaking. Located in Speirs Locks, north Glasgow, Civic House is a space that supports creative learning and socially engaged approaches to city making.
Cities and public spaces can often be segregated by age, with places designed to attract or deter certain age groups. Factors such as accessibility and frequency of transport, public space quality, and stereotypes can all limit opportunities for cross-over between generations. For this event, we wanted to think more 'intergenerationally', and generate some creative ideas for doing things differently.
Participants grouped themselves around four themed tables for the evening, and were asked to co-design an idea for a project or proposal using power, connection, sustainability and diversity as a starting point. As conversations unfolded at the tables, the enthusiasm for the topic in the room was clear.
After a period of discussion, each table was tasked with quickly transferring their ideas into a physical representation using the various craft materials on offer. After some initial hesitation, the groups got stuck in. One participant from each table was then given 3 minutes to present their ideas to the room, followed by a group discussion. Here are some of the outcomes: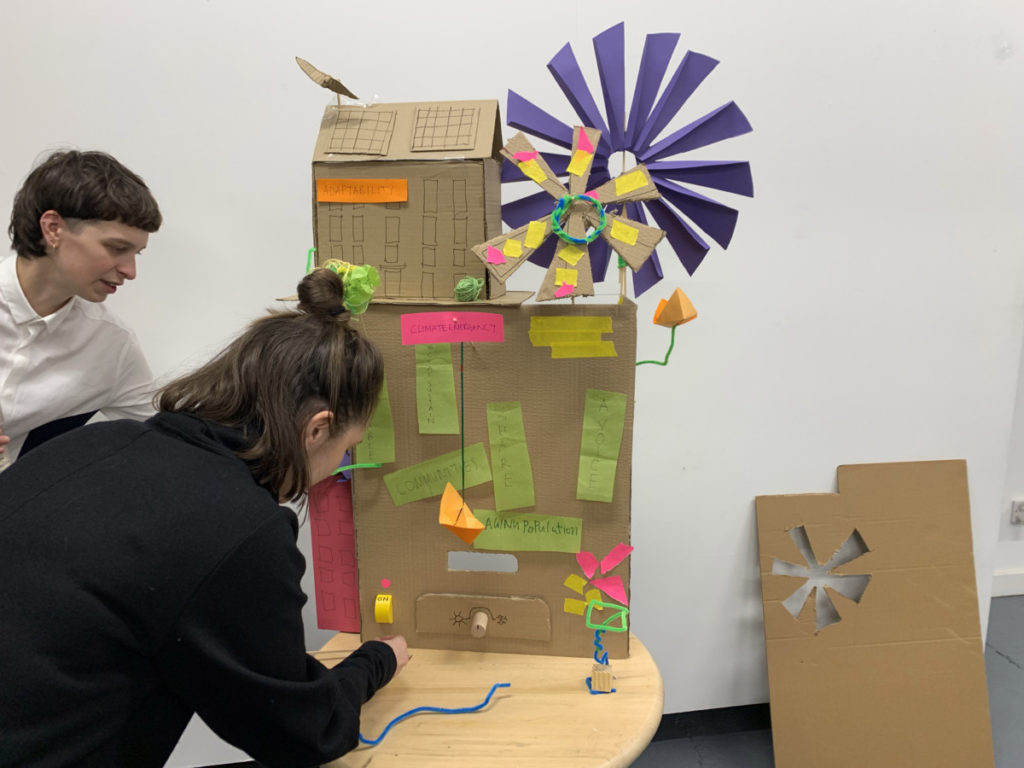 Ideas produced by the tables ranged from a 'community boiler', a shared power source people can plug into to share resources, to a playground that was designed for all ages and focused on less prescriptive play and more freedom for imagination. The balance between 'over designing' spaces, particularly within the context of play, versus allowing people to grow projects and facilitate interactions organically was also questioned as the making progressed. The benefits of a collaborative economy came up often, both as a mutually beneficial way to naturally connect people of different ages through skill sharing and activities, but also as a driver for new projects and an important element to their longevity and impact.
Sophia de Sousa, The Glass-House Chief Executive and facilitator for the evening, shares her reflections: "I found it interesting that the tables that started with the words power and diversity came up with ideas about play and connection, and that the tables that started with connection and sustainability talked about sharing power and resources through diversity. All of the tables talked about the opportunity to improve places and our quality of life through bringing people together, better communication and collaboration."
Unsurprisingly, age mix and diversity was a central theme during the evening's discussion. Participants noted how unusual it was to attend an event with such a broad generational gap of attendees. As John, joining us through his active seniors group, noted: "We're quite up for listening, but you have to talk to us." He also commented on how rare it was for him to spend the evening with people in their 20s, as in his experience, older people are often connected to school children but rarely get to mix with young adults.
The discussion turned to the difference between 'intergenerational' and 'multigenerational' as terms. It was suggested that multigenerational refers to spaces that are inclusive of generations – in this way, cities, or Glasgow's famous tenement buildings, are already multigenerational because they have diverse people living in them. Intergenerational projects or spaces differ because they should have an interactive element to them.
Themes of agency, and the transferal of power to the community came up often during the activity at the tables and the group conversation. Tactics to make people feel like they belong in certain spaces, or encourage individuals to feel like they can make a difference went hand in hand with the ideas that were proposed. We talked about the need for a 'carrot and stick' approach to influence change at a local level, but also to inform and shift policy more broadly. Here were some of the suggestions for the evening:
Level the playing field between new build and refurbishment projects by taking 20% VAT off the cost of refurbishment.
Encourage people to work together to make their streets 'play streets' by offering a council tax rebate to those streets that work together to do so.
Make it easier for people to bring new uses and collaborative activities into empty spaces on high streets.
Make it easier and provide support for people to experiment with innovative start-ups, especially those which have not previously been able to access funding.
We left Glasgow with a sense of the energy and enthusiasm in the room, as well as the hope that the evening helped forge some new connections, encourage people to talk more to each other outside their own generation, and feel more inspired to take action in their communities.
Intergenerational Cities was the first event in our current Reconfiguring Place series. Next, you can find us in Blackpool on the 27 November, where we'll be exploring High Streets with the same themes of power, sustainability, connection and diversity. We are hoping to build a UK wide picture of what those words mean to people, and collate our findings to establish recommendations for shaping policy at a range of scales. Follow the conversation on twitter with the hashtag #WEdesign.
With enormous thanks to John Lord of Yellow Book, and Brian Proudfood of GOODD for their support in designing and delivering the event, and to our project partner, Civic House.
Grace Crannis is Outreach and Impact Manager at the Glass-House Community Led Design.