Written by:
By Myra Stuart
On 27th November 2019 we partnered with Historic England and The Open University for Reconfiguring Place: High Streets, in Blackpool's historic Winter Gardens. For the second date in this year's event series, we were seeking to reimagine the role of high streets and how they could be best be revitalised to serve their local communities.
Struggling high streets have been dominant in the national narrative for some time. However with central government injecting £1 billion into funding high street renewal, now is the perfect time to explore what a vibrant and relevant high street could look like and what role local people and organisation can play in helping them thrive.
A diverse mix of people from different local organisations and businesses, local residents, as well as representatives from Blackpool Council, took part. The mix in the room was noticeably intergenerational, with teenagers from Blackpool Youth Council all the way through to members of the Civic Society in their eighties, all with useful perspectives on what would help high streets and town centres to thrive.
As in our recent event in Glasgow, Reconfiguring Place: Intergenerational Cities, participants  gathered around tables focused on four key themes for discussion: Communication, Sustainability, Power, and Diversity. Attendees were also encouraged to consider what they had to offer their local community, what was already happening in their local community, and what their local community needed, through an asset mapping exercise. As the groups progressed through the discussion, they were asked to brainstorm practical ideas and policy changes that could revitalise and reinvent our high streets, before picking one to pitch through a playful model and presentation.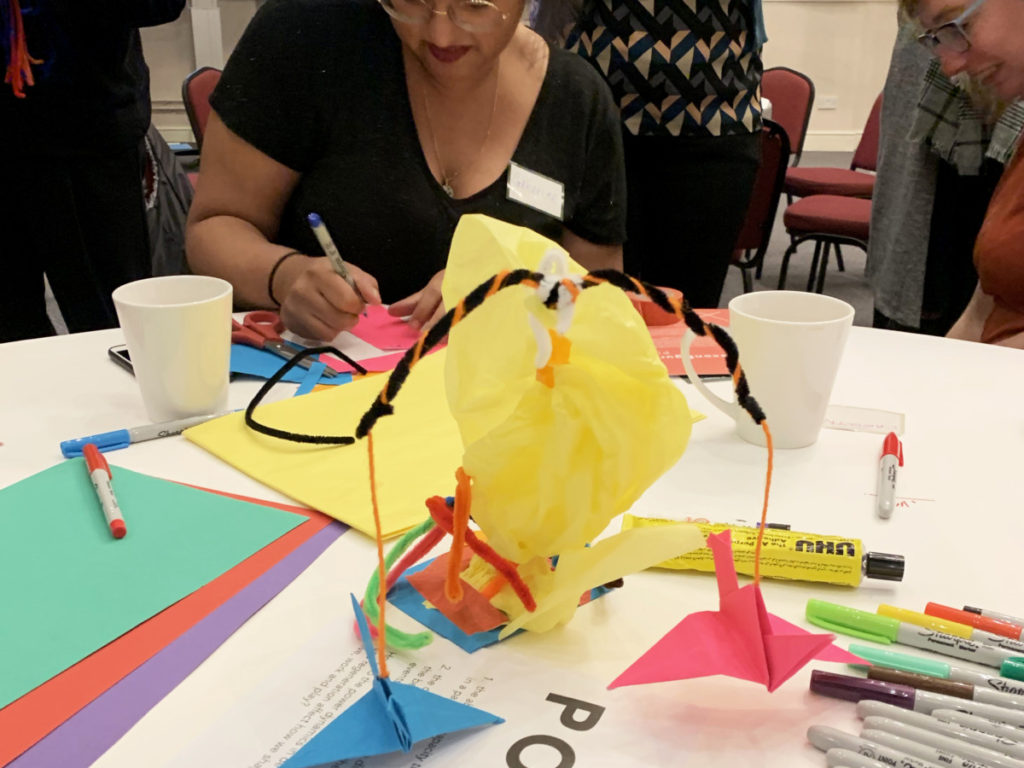 When we came to share their ideas it quickly became apparent that three out of the four groups' proposals had striking similarities. Participants envisaged a central hub area, which was mixed-use with green landscaping, good quality design, and places to meet. A broader concept of what a high street or town centre could be, that moves well beyond retail and provides play, housing, and community activities alongside businesses. Sustainability and resilience were tackled with repair shops and skills sharing. Regular events and pop-ups in deserted properties were suggested to keep the area alive.
The potential for cultural events and programmes to play an important role in bringing life back into the town centre, both for local people and for visitors, was also raised. The POWER table in particular championed this approach, giving the example of a photography biennial, as a means of breaking down barriers between people and of using creative activities to empower and give voice to people of diverse ages and backgrounds.
Across all of the groups, there was a strong sense of the need for regeneration and rejuvenation, referencing the many empty properties currently in the centre of Blackpool. Many suggested that thinking about these spaces not just as traditional retail spaces might support a diverse range of economic groups to benefit from and use the area.
Here are some key suggestions from the evening:
24 hr services for homeless people
Attendees talked about the problem that regeneration often means moving problems such as homelessness to different places. Participants advocated for a place where vulnerable homeless people could go throughout the night, to seek shelter and support, as being both a more effective and more empathetic solution than simply moving them on.
Investment and / or philanthropy from online retailers and big business to fund town centre events and revitalising vacant spaces
One group firmly advocated for the big retailers both on the high street and online to invest in local initiatives to improve and enliven high streets. They reasoned that if these retailers have a presence in the town centre, investing in local action could be a win-win, as a thriving town centre and a reputation for philanthropy and local investment could also build their sales.
More effective communication between policy makers and local people.
It was stressed that this communication has to be multi-directional. One of the young people attending stated that policy makers should hear the stories and journeys of real people, and that this was crucial to them understanding the issues and opportunities that should inform policy and investment.The suggestion was also made that councils and policy makers communicate what has guided their decisions more clearly to local residents, and that they open the door to exploring different approaches and solution. For example trees in Blackpool can be extremely costly to plant and maintain due to the coastal climate. With such a strong desire for more greening, but also some anxiety regarding this potentially taking funding away from other important budget areas, communicating clearly to local residents why and how that money is being spent, and perhaps exploring approaches such as local people helping to look after trees to bring down costs, might bring a different response to the uproar that ensured when this figure was discovered.
Consider the needs of the full spectrum of young people.
The point was clearly made that young people are both our present and our future, and need to be included, empowered and enabled to play an active role in our communities, now. Older young people (18-25 yr olds) in the room stressed that people in this age group can find themselves between two worlds, and that the provision of crucial support and services falls off just as they are making the transition into adulthood and employment.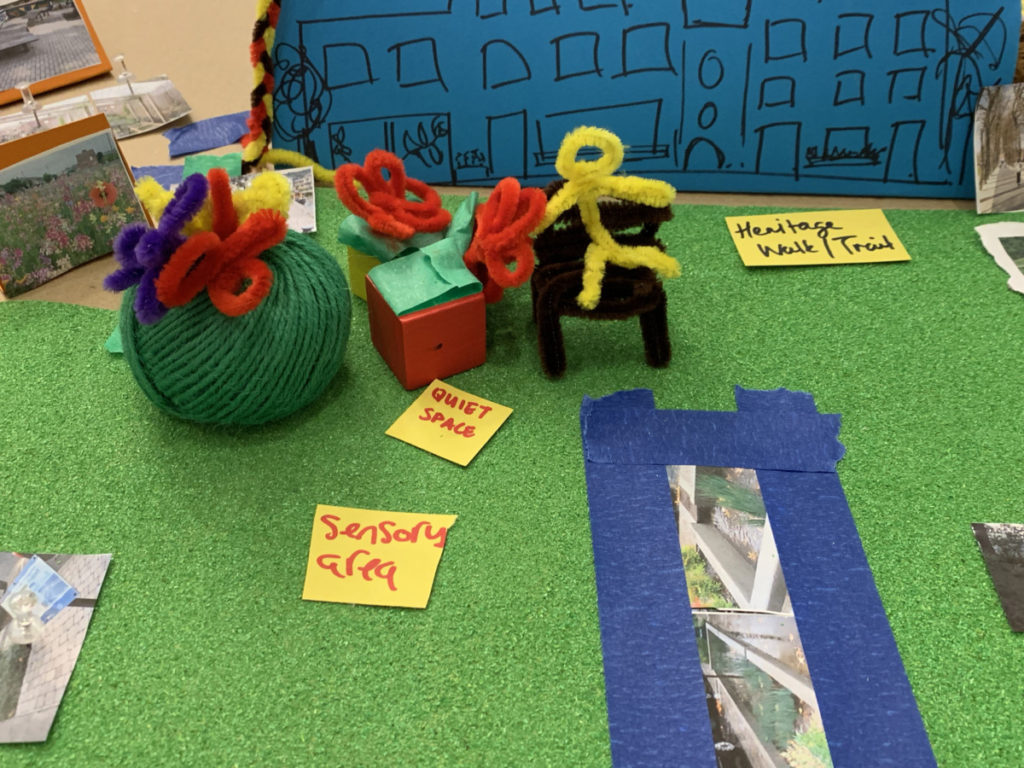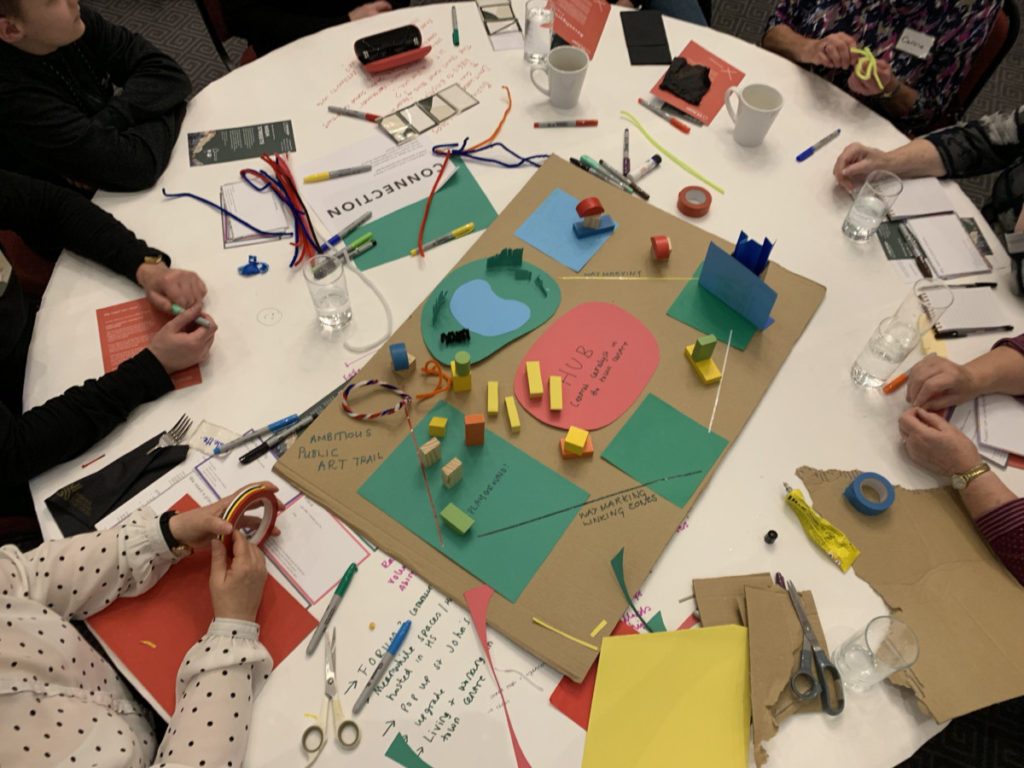 We were struck by the vibrant ideas and sense of potential for our high streets in the room at Blackpool, and it was clear that when asked, communities hold many of the solutions for re-imagined high streets to thrive.
Myra Stuart is Design Enabling and Research Manager at The Glass-House Community Led Design.