Design by Consensus is a flexible workshop model, designed by The Glass-House to introduce design involving diverse stakeholders and user groups, and to lay the foundations for collaborative placemaking.
The Story
The Design by Consensus workshop was initially created by The Glass-House in 2006 to be included in an event coordinated by the London Centre for Arts and Cultural Exchange (LCACE), now known as The Culture Capital Exchange. The workshop was created to bring together different disciplines and sectors to explore the challenges and opportunities of engaging multiple stakeholders in design and placemaking. 
Focusing on the design of a public space, participants are asked to step into a series of stakeholder roles, representing various interests around the site, such as local housing providers and resident groups, local businesses, services and amenities. Participants are asked to represent their roles in an exploration of conflicting and shared concerns and aspirations for the space, and then tasked with working together with their fellow stakeholders to negotiate a shared vision for the site. 
Workshop participants are divided into working groups, with each configured to involve different combinations of stakeholders. This helps participants explore the impact of inclusion or exclusion of different stakeholders in a design process. 
The workshop also aims to introduce some basic principles of design, and in particular the balance of form, function and feeling within a public space shared by many different users. By placing people into the role of diverse stakeholders, participants must negotiate design ideas that both respect their shared vision and respond to the very specific needs and concerns of the various users. 
We generally use an imagined or anonymised building, open space or streetscape as the context for the task, and provide participants with stakeholder profiles which represent a mix of interests, sectors and socio-economic groups, and which identify specific needs, concerns and aspirations. 
Each group is asked to progress from a shared vision to develop design ideas for the site provided, based on the roles and interests within their group. These design proposals are then presented and a discussion follows to explore the themes and ideas that have emerged during the task.
A flexible approach
Since it was initially developed, we have used the Design by Consensus workshop model in a variety of different contexts: within event settings, supporting live placemaking projects, and within education and research. The workshop model provides a flexible frame for iteration and evolution, and we have created and used a number of different versions, each suited to different contexts, length of workshop and number of participants.
Here are just a few examples of how we have experimented with, evaluated and iterated the Design by Consensus workshop.
Embracing Complexity
In 2012, Design by Consensus was at the heart of our first research collaboration with our now strategic partners, the Design Group at The Open University, within The Role of Complexities in the Creative Economies project. Using complexity theory research techniques (to analyse the interconnections within groups and networks) we explored the effects of collaborative design workshops on how various stakeholders connect with each other and how they become empowered to lead a regeneration/change process. Working with communities in London and Oxford, we tested the difference between beginning with the roleplay workshop, and diving directly into the same set of tasks using a project's real site information and stakeholder profiles. The difference was notable, with the roleplay version offering an important space to lay foundations, both in terms of collaborative design and placemaking, and also in building empathy for other stakeholders within the group.  
Laying foundations for collaboration
In 2014, working with The Open University and other partners through the Scaling up Co-design research project, we adapted the Design by Consensus approach to move from the context of placemaking to that of co-designed collaborative research. The adapted version helped a diverse research team, consisting of several academic institutions and civil society organisations, to build a better understanding of each other's research ambitions, opportunities and challenges in order to develop shared objectives and approaches to our collaborative research. 
Design by Consensus: Makerspaces
In 2019, we adapted by Design by Consensus to explore the co-design of Makerspaces (places in which people with shared creative interests can gather to work on projects while sharing ideas, equipment, and knowledge), and took the workshop further afield, introducing it to communities and students in both the UK and in China through the Fostering creative citizens through co-design and public makerspaces research project. On this occasion, we were tasked with creating a workshop to help people come together to explore how they could shape a building to cater for multiple different makers, and to help engage the community in creative making activities. 
The workshop activity and accompanying resources needed to spark discussion and debate about the functionality of the space, the type of atmosphere created spatially, as well as its social and economic purpose. As the workshop was used in both the UK and in China, it was essential that the props developed were as visual and accessible as possible, and didn't rely heavily on written text. 
The Design by Consensus workshop for makerspaces was used within the research project on two specific occasions, firstly in the UK where it was delivered in English and then in China in Mandarin, using the same workshop structure and resources.
You can read more about how we developed and used the Design by Consensus: Makerspaces workshop here.
Creating tactile props
Design by Consensus is a very simple workshop format, but benefits from props that have been specifically adapted to the type of space being explored and from resources that are as accessible, visual and tactile as possible. The Makerspaces research project afforded The Glass-House a great opportunity to revisit a well-established workshop and to produce new props that reduced written text to a minimum, and that allowed participants to shape and alter the materials provided. 
This made for a far more playful and creative workshop experience than in previous iterations of Design by Consensus, which had relied more heavily on participants reading large amounts of information before stepping into the stakeholder roles. The making element of the task, with these new workshop materials that participants could adapt and move around, also seemed to help participants interact both with each other and with the space being explored more easily. Beautiful, tactile and playful workshop materials added considerably to the workshop experience for participants.
We haven also added some of these props to our public space version of the workshop, and have updated all of the resources to make them as visual possible, with limited text.
Going digital
With the outbreak of Covid in 2020, we revisited the Design by Consensus model to explore how we could deliver the workshop digitally. Working within the free-to-access Google environment, we experimented with ways to create a version that might be used by schools and universities, and that would integrate individual and group tasks, bringing together discussion with co-design tasks.
Open sourcing Design by Consensus: Makerspaces
We are delighted that through the recent adaptation of the Design by Consensus workshops on Makerspaces, we have created a series of resources that can be easily taken up, used by others and adapted. Through the Makerspaces research, we witnessed those taking part in an initial workshop quickly and easily stepping into facilitation roles at a subsequent workshop. Tongji University has taken up the resources for use with their students.
Having delivered the workshop in both countries and within a range of settings, we have now produced a facilitation guide to help others deliver this workshop in their own places.
Gallery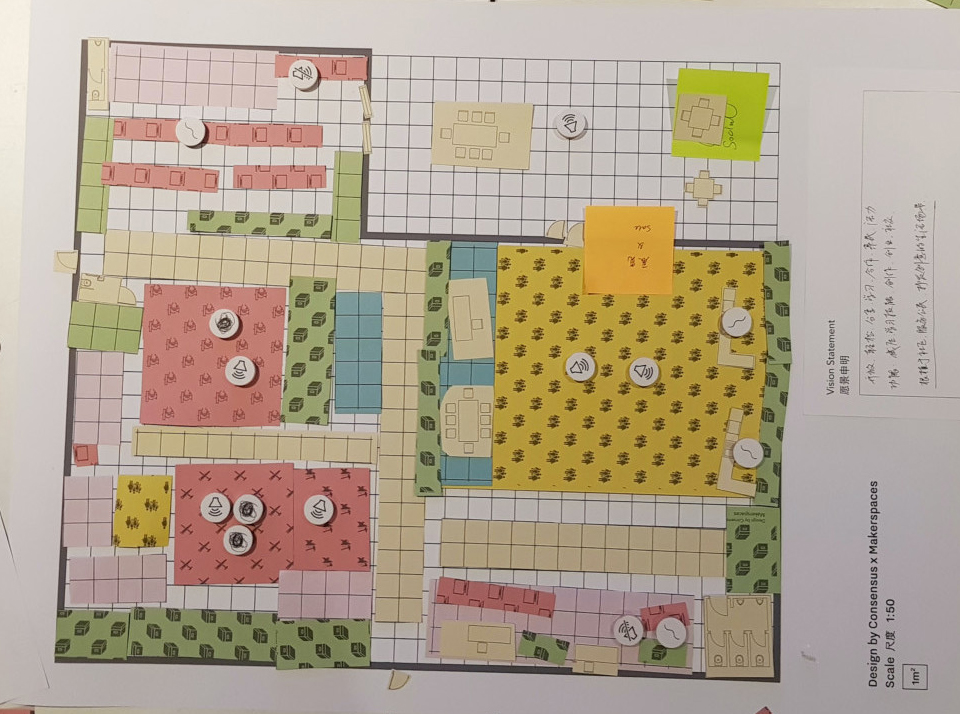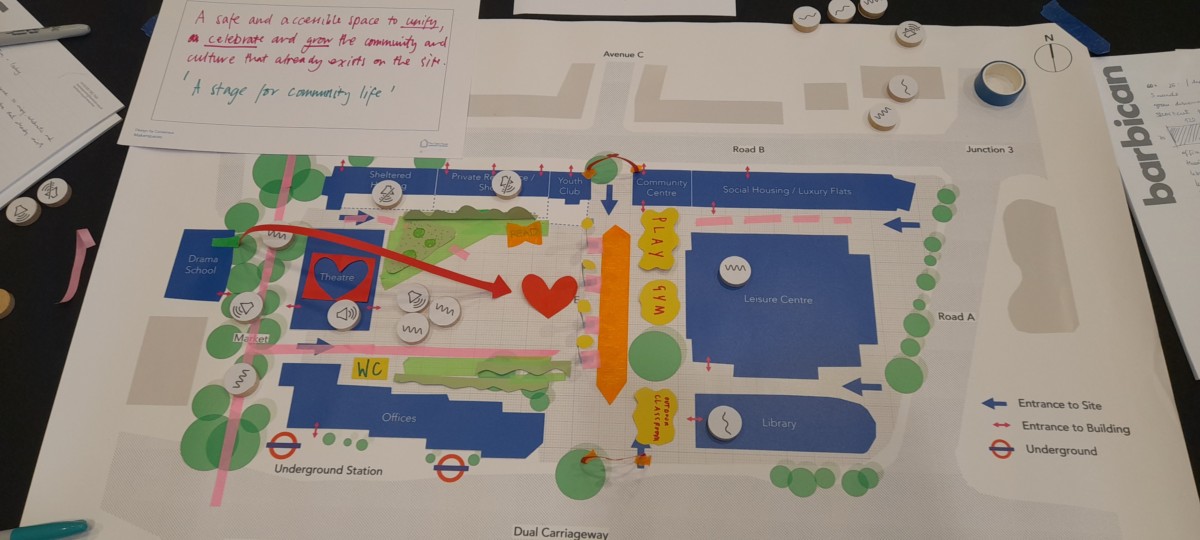 Impact
Over the years, we have used the Design by Consensus workshop within communities, with design and regeneration professionals, students, researchers and policymakers. It has been adapted for use in urban and rural contexts, exploring different types of building and spaces, and has even been used as a framework for helping multiple research partners co-design a collaborative action research project. 
The workshop demonstrates that bringing a number of stakeholders together through a playful co-design activity can help them identify some fundamental shared values and aspirations, and move quite quickly from focusing on points of tension and potential conflict, to building on what they have in common. They quite naturally go on to develop ideas for how a shared space can offer something to everyone, and to explore what different stakeholders could contribute to the future of the space. 
We have found that this workshop serves as a very useful tool to introduce people to co-design, before they get started on working together on a real project. Asking people to step into roles and negotiate an imagined or anonymised site with which they have no vested interest or connections allows participants to focus on the process itself, and to do so in a playful and neutral environment. This same process can then be applied to their own site and stakeholders, but with the benefit of having explored how to collaborate through design before they tackle issues and interests that are charged with emotions and agendas. 
Having an independent facilitator with no vested interest in the specific local area or project being explored can be helpful to keep the discussion focussed on the themes that emerge from the task rather than on the specific interests represented in the room.  That person can also then help guide the conversation to the question of how these themes and ideas apply to the local context, without having any vested interests to defend, and can take on the role of simply enabling a balanced and constructive discussion. 
The workshop has also become a tool that we use regularly within the context of education and continuing professional development, offering a light-touch yet impactful pathway into exploring bringing diverse stakeholders together through design. 
We are delighted that through the recent adaptation of the Design by Consensus workshops on Makerspaces, we have created a series of resources that can be easily taken up and used by others. In Shanghai, we witnessed those taking part in a workshop quickly and easily stepping into a facilitation role at a subsequent session. Tongji University has taken up our resources for use with their students, and it will be made available to others through the Fostering Creative Citizens research project.