The Glass-House is delivering a series of online and face-to-face workshops in partnership with Design Council, Digital Urban and Commonplace to engage the British public in shaping the final stages of a new design standard produced by 7N Architects for Network Rail.
project date: 2021 – Ongoing
The Story
In 2021, The Glass-House was invited into a partnership alongside Commonplace and Digital Urban, led by Design Council, to deliver a series of engagement activities across the UK to facilitate a conversation with the British public about a new design standard being developed for small to medium-sized stations for Network Rail. This station design framework is being designed by 7N Architects, an Edinburgh-based practice that won the 2020 RIBA international design competition, Reimagining Railway Stations, in collaboration with ARUP and (landscape architects?). The brief for this competition was informed and shaped by a passenger and stakeholder engagement project, ThinkStation, commissioned by Network Rail and delivered by Design Council in 2019 and early 2020 through a series of workshops across the UK.
Comprised of two rounds of engagement activities, ExploreStation aims to unpack the design proposals from 7N Architects with the Great British public, exploring the kit-of-parts approach and gathering opinions, ideas and reflections about how this adaptable design framework could be applied to the wide range of unique communities and localities across the UK, whilst meeting the diverse needs of the public.
Starting a National Conversation
Our first round of activities, a series of exhibitions and workshops led by The Glass-House, was delivered in November 2021 in cities across the UK. These in-person workshops sat alongside an online workshop for those engaged during the ThinkStation workshops previously. Our week-long 'roadshow' saw us hosted by the ISRAAC Centre in Sheffield, EngineShed in Bristol and Cardiff Town Hall. 
At each venue we curated an open exhibition which consisted of a series of informative boards and engaging activities, including a postcard memory line and 'what would you put in a station', an activity which invited participants to use wooden blocks and pens to imagine and create their ideal future station, and a space to share ideas around sustainable behaviour in travel. The aim of the exhibition was to tell the story of ExploreStation so far, to highlight previous design iterations and to give some historical context to the journey Network Rail is embarking on through this design process. 
We also delivered a creative workshop in each city, where we invited members of the general public to join us for a playful evening session through which we: explored the current design proposal from 7N Architects; delved into the diverse stakeholders who use stations and their unique and varied needs; used a collaging activity to understand how the new station design framework could respond to and be embedded into local places and communities. 
Our online workshop invited ThinkStation stakeholders back into the conversation, using their expert knowledge to explore whether the proposed design from 7N Architects met the high expectations and standards set out within the Reimagining Railway Stations design competition as the design has continued to progress and develop. Using Zoom as the digital platform to convene participants from across the UK, we utilised Miro to formulate a series of key recommendations to help to develop the next iteration of the design proposal.
During this first round, our partners Commonplace ran an online campaign on their platform, through which they invited people to explore the current design and respond with their feelings and thoughts through a series of online questionnaires. Commonplace is a vital tool within ExploreStation, as it allows our partnership to reach a large online audience and invite them into this national conversation.
The wide range of feedback, conversations and opinions gathered from this series of activities within the first round of ExploreStation were then collated and fed back to Network Rail and the design team at 7N Architects to inform the next phases of development.
What's Next?
The Glass-House
The Glass-House ExploreStation's Round 2 activities are due to begin in May 2022, during which The Glass-House will be delivering a series of creative workshops in Liverpool, Manchester, Bristol and online. Exploring the changes made to the design which were informed by the outcome of Round 1, these workshops will be focusing on how the emerging design will shape people's experiences of stations in the future, and how the new proposed design can integrate into existing communities and localities.  Find out more about each of the workshops by following the links below:
Digital Urban
During Round 2, our partners Digital Urban will be delivering a series of immersive virtual reality events in venues across the UK, using VR headsets and technology. You can book into their short experiences by following the links:
Commonplace
The next iteration of Commonplace is also now live for Round 2. Follow the link below to explore the updated design, understand how 7N Architects has adapted and changed their design thinking from Round 1 feedback, and give your opinions and thoughts about the future of small to medium-sized stations across the UK. Access the Commonplace platform here.
Gallery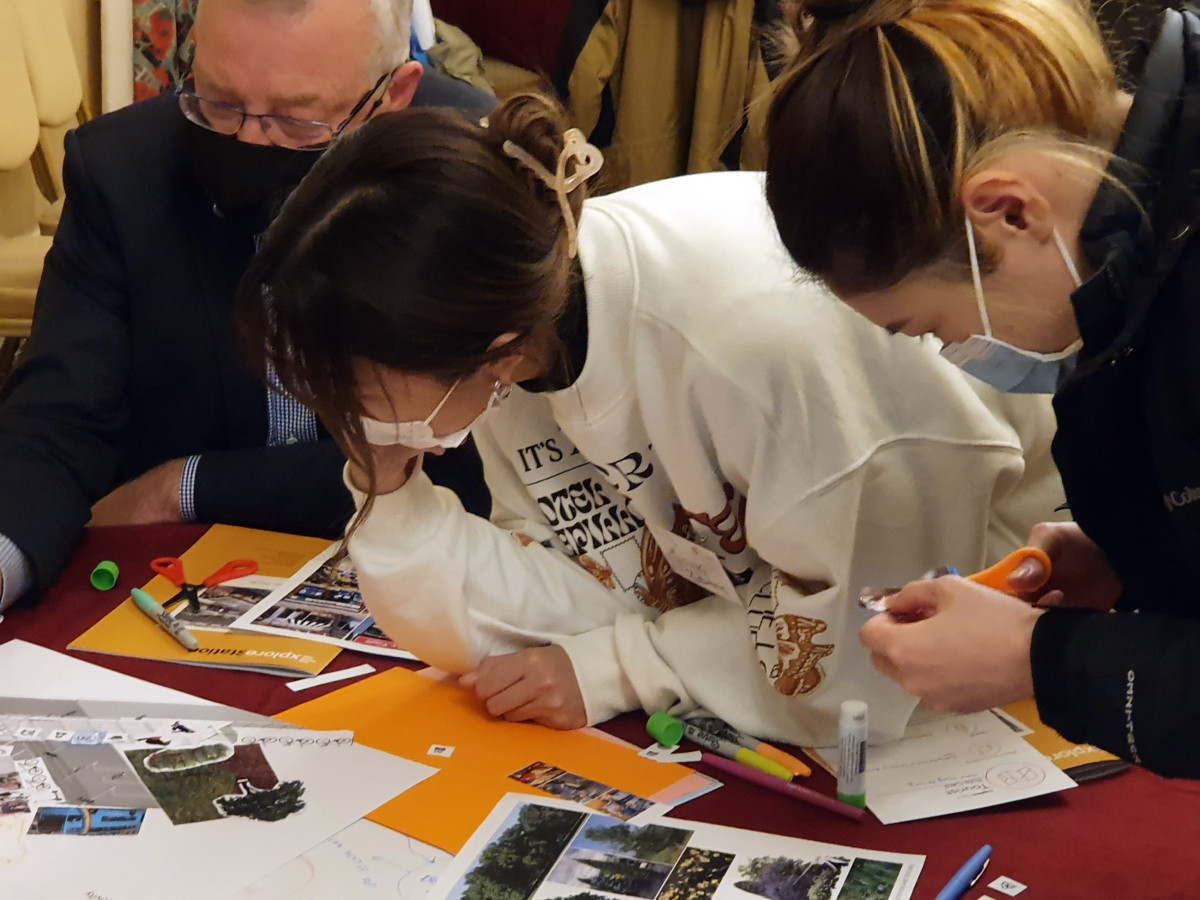 Impact
Feedback from the first round of ExploreStation has been crucial in helping 7N Architects and Network Rail to continue to develop the proposed design to cater for the diverse needs of the Great British public, and to accurately understand what people need and want in their local stations. 
Network Rail is now shifting the emphasis in local stations, reimagining them as community hubs and active, engaged interfaces between local places and a national travel network. In order to successfully design these community and transport hubs, which can shift and respond to shifting future needs, Network Rail and Design Council have created a multi-faceted engagement strategy and partnership between different specialists in design and engagement. By utilising each of our specialities to engage as wide and diverse a range of people as possible, the reach of ExploreStation is maximised and we are able to create spaces which attract a diverse range of people. 
We are excited to continue to see and understand the impact ExploreStation will have on the final HUB station design, which is due to be finalised later this year.
Explore
Find out more about ExploreStation:
Explore Design Council's website

here

.

Keep up to date with all the Round 2 events on our page

here

.
ExploreStation Round 2 Activities:
To book into The Glass-House Round 2 interactive workshops, click here.
Book your place at Digital Urban's immersive VR experiences here. 

Give your thoughts and feedback through Commonplace by following the link

here

.
Read about Round 1 of ExploreStation:
You can read about our Round 1 workshops in our blog here.