Written by:
May 2022
People Powered Places is Metropolitan Workshop's second annual practice-based research project. It aims to explore innovative methods of community participation in planning and housing design in order to enrich their approach to working with new and existing communities.
As part of their project, Metropolitan Workshop asked The Glass-House to act as a critical friend to reflect on their research on the topic of community engagement in design, and on their emerging guidance and tools both for embedding participatory approaches in their work, and for championing participatory design within communities and with their clients.
What made this request particularly interesting to us was that Metropolitan Workshop wanted us to bring community representatives into this space, and to facilitate a conversation that would empower these community champions as critical friends and experts in this process alongside The Glass-House team.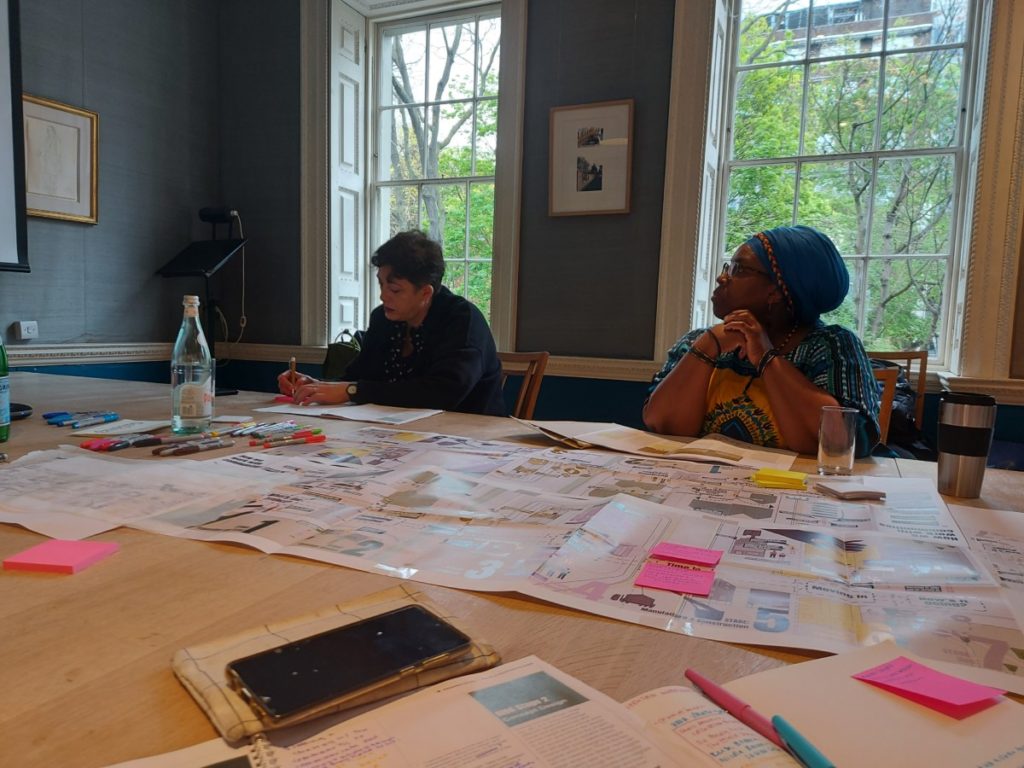 Two community champions we had worked with in the past immediately sprang to mind.
The first was Angela Moore, Co-founder and Manager of the Tabot Centre and a member of the Granville Homes Resident Steering Group (GNHRSG) who we supported back in 2005 as part of the Granville New Homes project in South Kilburn, North London. The regeneration scheme, which brought new housing and a pocket park to the area, also saw the demolition and reprovision of the Tabot Centre, which has offered after school and school holiday care for children aged 4-12 years since 1998. Angela played an active role in the design journey for the new building.
Since our work with GNHRSG, we have stayed in contact with Angela, and she has become an articulate champion for participatory design. She has helped us support other communities and practitioners learn from the participatory design process she experienced. This has included working with us to organise study visits and speaking at Glass-House events and contributing a beautiful provocation on the theme of connecting to our website.
The second community champion was Toni Dyer Miller, who we first encountered in 2019 as a local resident intern on the partnership project to regenerate St Raphael's Estate, led by Karacusevic Carson Architects (KCA) for the London Borough of Brent. Through the internship Toni, who was studying Marketing and Communications at the time, did placements at The Glass-House, Brent Council and KCA, learning about the world of placemaking from the perspective of a design charity, a local authority and a design practice. Throughout, she was also contributing to the design process as a resident of the housing area undergoing regeneration.
Following that internship, Toni went on to work with both The Glass-House and KCA, and now works full-time within the placemaking world. She too is a passionate champion for participatory design and has a particular interest in the role effective communication can play in its success.
Angela and Toni joined this session with The Glass-House team to carry out a critical review on the guidance and a graphic poster designed to communicate Metropolitan Workshop's key principals and methods for engagement in the design process. Our group brought together both the perspectives of community activists who have lived through significant regeneration projects in their neighbourhoods, and our charity's organisational experience of championing and enabling community participation and leadership in design and placemaking.
We were also in that space simply as people, responding quite personally and instinctively through our respective lived and professional experience to what was put in front of us.
So, whilst there were just five people in the room, many more hats were represented.
We began by looking at the key aims, objectives and process that had led to this guidance, and all of us were impressed with:
The action research approach taken by Metropolitan Workshop to critically appraise innovative methods of community participation in planning and housing design in order to enrich their approach to working with new and existing communities.
The intention to create clear and comprehensive guidance in order establish a practice-wide high standard for how they engage with communities, and to give their staff the tools to do so confidently and effectively.
Their intention to use this research also as a means of making the case for considered and effective participation to the clients that commission them.
Their desire to communicate their approach and methods for participation clearly and effectively to the communities with which they work in order to galvanise a spirit of collaboration.
We were asked to focus in particular on this last point.
Quite quickly, we saw that the core content and messaging was really strong and that we could offer advice on elements we thought might further enhance it. We were keen to see a bit more focus on the potential power and impact of the journey of participatory design, not just the outcomes that emerge at the end. We championed the importance of creating opportunities for social value and social impact, and of empowering communities as champions, collaborators and partners. These ideas were there in the draft documents between the lines, but we felt it was important to be explicit in the guidance they were creating.
Generally speaking, the core principles and processes are in place. The question of how best to communicate them in an accessible way became the focus of most of our discussion. We considered a whole series of different angles, including audience, graphic style, layers and levels of information, print and/or digital formats, and indeed perhaps the spectrum of resources required to achieve all of the objectives set out above.
When we fed back the key points from our critical friend session to the Metropolitan Workshop team, we found ourselves congratulating them on the investment of time, resource and collaborative activities to get to the point at which we stepped in. We left them to some extent with a design challenge, made even more complex by the intention of Metropolitan Workshop guidance to be a live, evolving document.
We look forward to seeing their next iteration, and further conversation with the project team suggests that while there may be a clear output for the imminent launch of the People Powered Places guidance, this is just one step in a larger body of ever-evolving research and work at Metropolitan Workshop. What their extensive research and the many collaborators have brought to People Powered Places has revealed and evidenced is that they are part of a larger movement for change.
People Powered Places marks a design practice setting out their stall as being committed to this movement for change, and we at The Glass-House look forward to seeing the evolution of the Practice Guide, and to adding it to our toolbox. We also look forward to collaborating with Metropolitan Workshop through the final stage of the project and beyond.