Written by:
As we approach the start of this year's WEdesign programme of events, we have been reflecting on our national event series over the last 15 years, and the broad spectrum of associated partners, guest speakers, contributors to our blog, and above all, the diverse audiences who have participated.
Our events have always been a bit different from many of the others out there. We bring together community activists, students, practitioners, policy makers, and academics representing different sectors, disciplines and backgrounds, to have frank and challenging conversations about how we shape our buildings, spaces, homes and neighbourhoods. We have tried to create safe, accessible, and democratic spaces, where we could break down stereotypes and help expose the perspectives and reality of all of those shaping and inhabiting our places. This has always been about breaking down silos, but also about planting seeds for collaboration built on mutual respect, shared understanding of challenges and opportunities and about building empathy.
Empowering Diverse Voices
Our national event series launched in 2007 with our Glass-House Debates, which framed our speakers as provocateurs, tasked with kick-starting discussion and debate with those attending. Because our speaker line-up always brought together representation from diverse sectors, there were always different perspectives on the event theme, which in turn sparked a range of reactions in the room.
I have been fortunate to have taken part in all but a couple of our events, and to have chaired most of them. At each, my role was to create space for those lively and challenging conversations, to connect threads and to highlight the pearls of wisdom that inevitably emerged. The quality of contributions from both speakers and attendees always made this pretty easy. There have been so many wonderful voices over the years but a few always stand out in my mind:
In Bristol, during our first series in 2007/08 Are We Designing Young People out of Public Space, one of the young people attending remarked that it was ironic and frustrating that when he and his friends gathered to socialise in public space, simply to hang out and talk, if more than two or three friends were together, it was immediately seen as "antisocial" behaviour by the adults around them.
During our Putting People in their Place series in October 2012, at our Glasgow event, the Church of Scotland Minister and resident activist Christopher Rowe warned us that "crap places kill people", referring to the huge discrepancy in life expectancy between one part of the city and another.
During the same series, at our Liverpool event, a member of the audience, a builder, suggested that we should build everything as if we were building it for someone we love.
At our 2013/14 series Place Potential, architect and developer Andrew Burrell, speaking at our Glasgow event, argued that we know ways in which to support the development of great places but, more often than not, lack the commitment or determination to implement them.
And there have been so many more.
Active Spaces
From the outset, our events have been designed as interactive spaces. While our Debates always created ample time and space for discussion with the whole room, we decided we wanted to try a new format which would disrupt the traditional format of a panel of speakers and an audience. In 2018/19, we introduced co-design activities into the events, and instead of commenting on what was happening in the design and placemaking landscape, we turned our focus to what could happen. And thus, our WEdesign event series format was born. This was a new kind of space for provocation, a space to bring diverse voices, experiences and types of expertise together to co-design propositions for change. We also wanted to make them creative spaces, in which people could express themselves in different ways, so we introduced the hands-on making activities of collaging and modelling.
We looked at local places and explored them in the context of global issues. We redefined the jargon of collaborative design, we mobilised local people and organisations to imagine transforming not only local places, but how we could work together differently to shape places.
At our WEdesign events, we challenged the status quo, working together to imagine "What if?" and to dream up ideas that activated people and resources differently and activated collaboration. Some of the ideas that emerged included: council tax rebates to streets that regularly organised community play days; intergenerational housing areas based on a sharing economy; community skills exchange centres on high street, business initiatives to tackle water wastage, networks of community growing spaces collaborating with local restaurants.
WEdesign and Higher Education
When Covid hit, we could no longer organise in-person events. We were keen to explore how we could maintain the feeling of a national series, and most importantly, to continue to provide interactive spaces that combined discussion and debate with co-design activities and blue-sky thinking. Having already worked with several higher education partners on our events over the years, we put our heads together with some of these to explore how we could adapt our events to online space.
This is when we introduced our current model for WEdesign, co-designing events with our university partners which brought students into the space as both facilitators and provocateurs.
One of the key challenges of co-design activities in an online space was the need for many more facilitators. We also had to find a way to make our online design space (Miro) accessible and manageable to attendees with mixed experience and confidence using these tools. We knew that design students could help with this.
An unexpected benefit of bringing students into our WEdesign events has been the reactions from our event attendees, who have given us extremely positive feedback. One experienced design practitioner commented that these students had impressed him enormously and made him feel that he had to up his game. Others spoke of the students bringing expertise into the conversation, but in a less threatening way than those already out in practice might do. Attendees have been impressed with the students' technical skills in handling the online space and in-person co-design activities, but also by the positivity and curiosity they have brought to the conversation.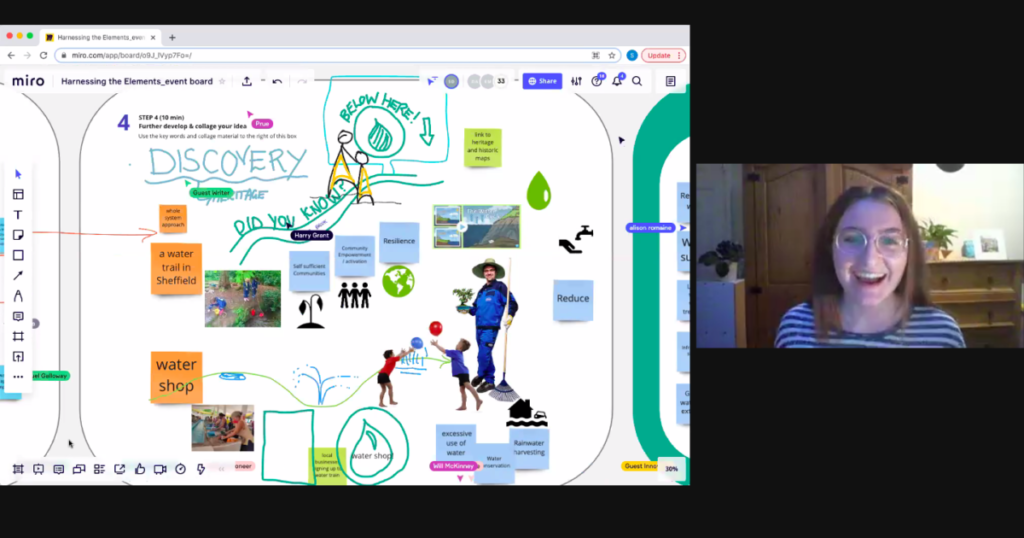 The students have become an invaluable resource for us, and at the same time, we are able to offer an opportunity to introduce students to facilitating co-design activities, offering them training and support, and to take them out of the university context into conversations with communities, practitioners and policy-makers. Using themes and projects from our university partners' built environment degree courses, the events have also become spaces where students can both share and inform their coursework, and test their ideas with diverse audiences.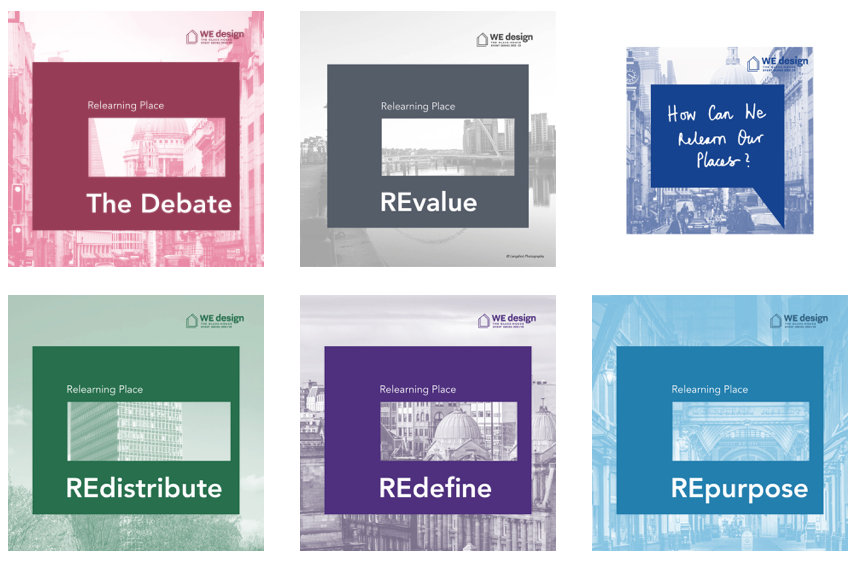 WEdesign 2022/23: Bringing It All Together
When looking back on this journey through 15 years of our national event series, we decided that this year we wanted to incorporate a bit of everything in our current series, Relearning Place. Our online Debate on 8 February, will bring together some fantastic speakers to help kick start a discussion with those attending from around the UK and other countries. Our in-person events in Newcastle on 22 February, in Sheffield on 1 March, in Glasgow on 8 March and in London on 15 March, will see our student facilitators guiding our attendees through co-design activities followed by discussion about the co-designed propositions that emerge. Our dedicated Glass-House Chat will create an intimate space for conversation online. Think pieces on our blog by external contributors will challenge us to think differently, and blogs by both The Glass-House team and our student collaborators will help us capture and share what happens at our live events.
Join Our Free Events
So, visit our events page and sign up for an event near you or online. The Glass-House events, as they have been for the past 15 years, are free to attend. This is thanks to the spirit of collaboration and generosity of our partners, speakers and facilitators, who have always shared our commitment to creating these accessible and safe spaces for discussion, connection and knowledge exchange. We simply could not have made them happen without their support and commitment to partnership working.
Over the years there have been so many inspiring voices, so many excellent contributions both at the Debates and at WEdesign events, as well as in the many accompanying think pieces on our blog. Dip into the Supporting Dialogue section of our website to read more and the many associated access blogs and summary publications.
We look forward to seeing you at WEdesign and to hearing what you have to say.
Relearning Place is The Glass-House 2022/23 WEdesign series which combines free, interactive events and co-design activities taking place in person in Glasgow, Sheffield, London, Newcastle, with a range of online events and think pieces.
To find out more about the whole series, visit our Relearning Place page on The Glass-House website.
WEdesign is kindly supported by Ove Arup Foundation.